TSN:  Schremp to play for Modo.  We here at IC are big fans of Schremp who used to provide IC with some inside perspective on life in the NHL.  We wish him well in Sweden.
Winnipeg Free Press:  Bogo contract talk.   Of the 3 big names yet to sign with their respective teams, Bogosian is the most raw but still has tremendous upside for the Jets.

Winnipeg Sun:  Dream come true for Manitoba NHLers.  There are a number of players born in Manitoba who will be pumped to be back home playing in a regular season game against a team they might have grown up cheering for.
Winnipeg Sun:  Bogosian ready to bring it on with Jets.  Nice to finally hear from this young defensive stud.  You have to get excited at the prospect of seeing him suit up for Winnipeg.  Interesting to read that he has already rented a condo in Winnipeg.
Winnipeg Jets Documentary:  Remember to sign up quickly if you'd like to share your fondest Winnipeg Jets memories, with a chance to appear on TV.
Around the NHL:
St. Louis Dispatch:  Prospective Blues buyers get deadline to submit bids.  10 groups interested in purchasing the Blues although it appears that once again, Matthew Hulsizer's interest in owning an NHL team might be fleeting. Guess this means Blues fans won't be subjected to MH in a St. Louis jersey cheering.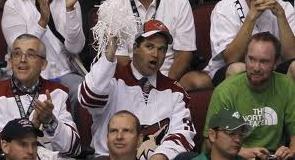 More from 'Around the NHL' including Ducks extending Carlyle, hockey guru to the stars and Rangers 1st round pick chooses OHL over college after the jump.
OC Register:  Ducks go against the grain, extend Carlyle's contract.  Let's hope for Randy's sake, they aren't forced to go to Plan B (Sans Teemu).
Toronto Star:  Stars align for local hockey guru.  A very interesting story about the man who teaches the pro's new tricks.
Plattsburgh Press-Republican:  Rangers' top pick chooses OHL over college.  Interesting that they chose Plymouth over the powerhouse UND.