Note:  The Jets were off on Wednesday but they were still making news as captain Blake Wheeler and goalie Connor Hellebuyck were selected to represent the Jets at the 2018 NHL All-Star game.  Today, the Jets are back on the ice to practice in Chicago as they prepare to face the Hawks at the United Center tomorrow night.
Note II:  The Moose fell last night to the Griffins by a score of 5-1 and had been scheduled to practice today at the IcePlex.  Instead coach Vincent is going to keep it to off ice and video as they try to snap out of this funk that has set in for the top team in the AHL.  The Moose will be back on the ice on Friday as they prepare to face the Iowa Wild on Saturday and Sunday.
Jets news:
Winnipeg Sun:  Wheeler, Hellebuyck named All-Stars.  Hard to believe that it is the first nod for Jets captain Blake Wheeler.  Both players were humble about receiving the selection.  
Winnipeg Sun:  Jets Snaps.  Includes: 1) Leaving their mark. 2) Laine hits 100 and 3) Goaltending decision looms.
Winnipeg Free Press:  Young Jets stars tied for team lead in goals scored.  (Paywall).  They are best friends and continue to push each other each to new heights on what seems like a daily basis.  Fans are not gonna be upset watching what levels they will achieve over the next few years.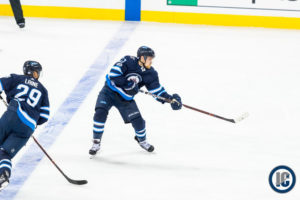 Winnipeg Free Press:  Dump & Chase.  Mike and Jason cover plenty of ground including the Jets warmup tune, Moose GIFS, a Herb Brooks speech, a tongue-tied Ovie, a local player being "catfished", Nelson Nogier update, our weekly power rankings and much more!
Illegal Curve:  Jets go 7-0 when facing opponent in quick succession.  Sadly for the Jets they won't get any more of these opportunities but it sure shows that the coaching staff made the proper adjustments for the second game against these opponents.
Jets audio:
TSN 1290 Winnipeg:   Getting the call is very exciting.  Winnipeg Jets goaltender Connor Hellebuyck discusses being named to the Central Division All-Star team with Andrew Paterson and Rick Ralph on the Afternoon Ride. They also discuss Hellebuyck's first half of the season, his off-season training, his relationship with Steve Mason and Blake Wheeler's influence on the team.
TSN 1290 Winnipeg:  All-Star nod a reflection of Hellebuyck's maturation.  TSN Hockey Insider Darren Dreger joins Andrew Paterson and Rick Ralph on the Afternoon Ride. They discuss Blake Wheeler and Connor Hellebuyck being named to the All-Star team.
TSN 1290 Winnipeg:  Jets have two good power play units.  TSN 1290 Jets analyst JP Vigier joined host Kevin Olszewski on the Donvito Roundtable to break down the Jets 7-4 win over the Buffalo Sabres.
TSN 1290 Winnipeg:  Kyle Connor can work into Calder consideration.  Mike McIntyre of the Winnipeg Free Press joins Kevin Olszewski on the Donvito Roundtable. They discuss the emergence of Winnipeg Jets youngster Kyle Connor and check in on the Manitoba Moose before a home game with Grand Rapids.
NHL This Week with Illegal Curve Hockey Replay:
Topics:  Jets/Sabres Recap, Jets/Blackhawks Preview, What is the asking price for Evander Kane, Lightning, Leafs and Bruins virtually assured of playoff spots, NHL announces 2018 All-Star Game rosters
Guests: Kevin Woodley (NHL.com, InGoal Magazine), Scott Powers (The Athletic Chicago), Mike Chambers (The Denver Post)
To listen click here.