Winnipeg Free Press:  Underdogs no more.  Love the points made in the article.  Time that this city starts to think big.  While the Cup Finals are a ways off, we need to shrug off the mantle of 'underdog' and assume our rightful place as the kids who deserve to be there along with Calgary, Edmonton and Ottawa.
Winnipeg Free Press:  Logo war – the pacifists fight back.  Isn't fighting the antithesis of being a pacifist?  I could claim I'm surprised that people jumped all over Kives for his column last Sunday entitled "I salute you, Jets logo" which essentially told people to "chill out" in terms of making a big stink over the connection between the new logo and the Canadian military.  But the reality is, there are always going to be a few in the crowd that take something you write and make a mountain out of a mole hill.  What do you think?  Does this logo offend your sensibilities in any way?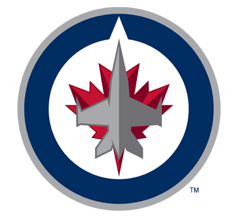 Vernon Morning Star:  Red Wings' Holland happy ay home.   I've always been a fan of the Wings GM, but I liked him even more after reading these comments he had about Winnipeg:
On Winnipeg's return to the NHL, Holland said: "They sold out, what 13,000 tickets in seven, eight minutes. It's great for Winnipeg, great for Canada and great for our sport. Anytime you can take a team to a city which has incredible passion, that's what it's all about."
CTV:  Counterfeit Jets merchandise selling on the net.  As I said yesterday nothing too surprising about the fact that those who would seek to make a quick buck are already selling knockoffs online.
Around the NHL:
Hartford Courant:  Vote on new Islanders rink shows need for a little sense.  While I would love to see the bright green of the Hartford Whalers return, I don't like the idea of it being done at the possible expense of the Islanders.  Apparently even Megan Fox loves the Whalers.

More after the jump including Twin Cities dismal championship record, RNH dazzles Oilers fans and Shakrs/Wild make another trade.
Pioneer Press:  Where's the hope for Twin Cities pro sports fans?  If we here in Winnipeg thought we had it rough having gone almost 20 years since we've won any title of note (Goldeyes in 1994), it appears our friends 7 hours southeast of here have had it even worse and for a lot longer.
Edmonton Journal:  Hyphenated Ones dazzle in White-Reds junior game.  Sounds like RNH made the pro Oilers crowd jump to their feet with a flurry of activity in the last few minutes of the game.  Here are the goals he scored. for team White.

San Jose Mercury News:   Summer rerun – Sharks pull off another trade with Wild.  Could be a nice move by the Sharks if Shephard heals up sufficiently to play next season.