Note:  The Jets are back from the final road trip of the season following their 5-4 win over Columbus last night (Jets 2.0 franchise best six in a row).  They now gear up for the final home game of the year tomorrow night at the MTS Centre when they welcome the Nashville Predators to town.  They have a practice scheduled for 12 noon today at their downtown digs as they try to end the season with a seven game win streak.
Note II:  The Moose are kicking off their final home stand of the season as they welcome to town the Tucson Roadrunners to Winnipeg for the very first time.  I will be joining voice of the Moose, Mitch Peacock, in the broadcast booth for the final two home games to provide colour analysis.  Morning skate is at 10 am with puck drop at 7 pm.  Tonight is the Nic Petan bobblehead giveaway for the first 3000 fans.
Jets news:
Columbus Dispatch:  Fifth straight loss an about-face.  Read about the game from a beat writer that covers the Jets opponent from last night to get a different perspective on the game.  Also includes video of Jack Roslovic hugging about 100 family and friends who attended the game to support the 2015 1st round pick.
Winnipeg Sun:  Comrie earns win in Jets debut.  As someone who has spent some time covering and talking to him in the AHL the past couple of seasons and had the benefit of watching him play I wasn't surprised by his play last night.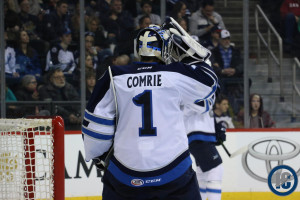 Winnipeg Sun: Jets players have spoken.  Until that extension is inked there is going to be considerable debate as to the future of the brass and you really shouldn't expect anything less in a market with such a passionate fan base.
Winnipeg Free Press:  Comrie, Roslovic make Jets debut in 5-4 win over Blue Jackets.  (Paywall).  Nice for both young prospects getting the opportunity to get into a game before the season had ended and for Comrie he was a big part of the win.  
Winnipeg Free Press: Things are about to get heavy for Jets' Chevy.  (Paywall).  Starting on Sunday when the Winnipeg off season officially begins and all Jets fans turn their attention to the many burning questions that they have surrounding their beloved franchise.
Illegal Curve:  Mark Scheifele will play for Canada at World Championship.  For the third time the Jets top centre will put on the Team Canada uniform at the World Championship.
Game 81 – Jets 5 Blue Jackets 4:
Illegal Curve:  Post-game report.  Some quick hits from the game last night in Columbus as well as post-game reaction from Bryan Little, Eric Comrie, Jacob Trouba and coach Maurice.
Jets audio:
TSN 1290 Winnipeg:  No-trade lists hinder Cheveldayoff in trades.  ESPN's Craig Custance joins Hustler & Lawless to discuss Winnipeg making the top of no-trade lists in the NHL. Custance says this has tied Winnipeg Jets GM Kevin Cheveldayoff's hands when it comes to potential trades, and expects Winnipeg to fall off no-trade lists once it returns to the playoffs repeatedly.
TSN 1290 Winnipeg:  Winning will make Winnipeg interesting.  TSN Hockey analyst Marty Biron speaks to Rick Ralph about Eric Comrie's upcoming NHL Debut and looks back on his first career NHL Game. Marty also discusses an ESPN report that the Winnipeg Jets are at the top of NHL players' no trade lists.
Moose news:
The AHL:  One Big Team.  Good read on what it is like to be going back and forth between the two organizations from the players perspective.