Note:  The Jets are riding a four game win streak as they prepare to depart for their final road trip of the season.  They practice at MTS Centre at 11:00 a.m. before they jet off to St. Louis where they will take on the Blues Tuesday night.
Note II:  The Moose are also back on the ice today at 11:00 a.m. at the IcePlex as they get ready for four straight home contests.  They too will play Tuesday night as they welcome the Grand Rapid Griffons to town.
Update:  The Jets have recalled Kyle Connor and Jack Roslovic from the Manitoba Moose in advance of the final road trip of the year.  You can hear from them as they spoke following practice today and before the team left for St. Louis.  Listen here.
Jets news:
Winnipeg Sun:  No bruised egos (Or, Up for grabs?).  Paul writes this interesting story gathering the input of the two players who most presume are likely to be impacted by the NHL expansion draft.  A good read to get some insight into the way Adam Lowry and Mathieu Perreault see the upcoming June event.
Winnipeg Sun:  Jets best with nothing on the line.  Don't know how many people can get overly excited about that factoid considering the reality of what it means for the playoff aspirations of a team.
Winnipeg Sun:  Wheeler not interested in numbers.  Not many players are looking for silver linings when there are still games to play, especially when the season has gone the way it has for Winnipeg.  Ken also writes about Scheifele's game, injury updates and goes around the glass.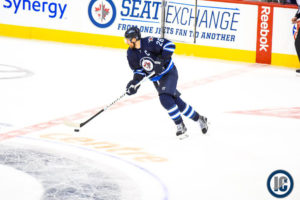 Winnipeg Sun:  Ehlers' speed tough to contain.  The elevation in his game has really been remarkable to watch over the course of the past couple of seasons.
Illegal Curve:  UND Fighting Hawks head coach Brad Berry on Tucker Poolman.  We spoke with the UND head coach on Saturday and one of the topics we spoke about was what fans can expect from defenceman Tucker Poolman.
Illegal Curve:  Growth in Nikolaj Ehlers game.  The trajectory for this young forward continues to rise as we saw once again this past weekend.  He hit the 100 points in his NHL career in game #151.