Note:  The Jets are off today and will be back on the ice tomorrow as they get ready to face the Calgary Flames on Saturday to close out their six game home stand.  They lost a tough one last night to the defending Stanley Cup champs despite an excellent opening 20 minutes.  Just as consequential as the loss is the potential injury to defenceman Tobias Enstrom who had to go to the hospital to be checked for facial fractures.
Note II:  Fear not as you won't be without hockey as the Moose welcome Central Division rival Charlotte to the MTS Centre tonight.  The Checkers are one spot up on the Moose sitting 6th in the division.  Morning skate is at the MTS Centre at 10 AM while puck drop is at 7 pm.
Jets news:
Sportsnet:  Five NHL coaches on the hot seat as the season winds down.  While he isn't the top of the list the Jets bench boss cracked this one.  Don't think it is happening but I could be wrong.
TSN:  Laine much more than a one-dimensional sniper.  Folks in this province won't be upset reading about the Jets top rookie.  
Winnipeg Sun:  Jets season in a nutshell.  Paul looks back at last night's game with thoughts on: 1) Highly entertaining first period followed by a second that left Jets fans scratching their heads. 2) Malkin gets the last laugh. 3) Short, but memorable, night for Sestito.  4) Matthias goal.  5)  Crosby and Laine.
Winnipeg Sun:  Jets' loss to Pens just the Pitts.  If only every period of hockey was as exciting as that 1st period.  When you have Blake Wheeler dropping the gloves (last time was February 11th, 2016 against Patrice Bergeron) with Penguins star Evgeni Malkin you know you're in for something special.  However the defending champs showed why they were hoisting Lord Stanley's mug around last June.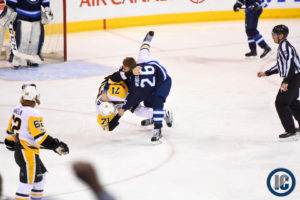 Winnipeg Sun:  Lowry brings the pain.  When you have the type of size he does it is important to bring that element into each game as this Jets team tries to be the type of team that can impose their will on other teams.
Winnipeg Free Press:  Mid-game burst from Penguins topples Jets at home.  (Paywall).  Jeff was at the MTS Centre and filed this report recapping all the action.
Winnipeg Free Press:  Losing Jets the wake-up call we needed.  (Paywall).  I've often said as much as it hurt to lose the Jets 1.0 it was the type of reality check this city needed.  It really forced Winnipeg to rid itself of complacency and really embrace opportunities (Pan Am Games, Grey Cups, World Juniors, etc.).
Pittsburgh Post-Gazette:  Penguins overpower Jets.  Read about the game from the perspective of a beat writer that covers the opposition team that invaded the MTS Centre.
Sportsnet:  Jets can't keep up with Penguins in heated rematch.  Another recap of last night's contest.
Sportsnet:  Breaking down the budding Jets-Penguins rivalry.  It almost makes you miss the good old days of the Southeast Division so the Jets would see Pittsburgh a few more times per year.
Sportsnet:  How Winnipeg's Mark Scheifele is developing into a two-way force.  A little on the two way game that is so often a focus when discussing a complete player.
Game 68 – Penguins 7 Jets 4:
Illegal Curve:  Post-game Report.  Some of the game details and then you can hear interviews from both the Jets (Wheeler, Little, Ehlers and coach Maurice) and Penguins (Malkin, Murray, Bonino and coach Sullivan).
Jets audio:
TSN 1290 Winnipeg:  16-17 not a wasted year in Winnipeg.  TSN Hockey's Dave Poulin joins Hustler & Lawless to discuss why the current Winnipeg Jets won't be a complete loss if they don't make the playoffs, and explains why he thinks incentivizing winning with three points will improve the game.
Moose news:
Winnipeg Free Press:  Connor, Cormier, Lipon playing in tune as top Moose trio.  (Paywall).  Some were dubious when this trio was put together but the mix has surely seemed to work.  Mike sat down with the three to chat about their recent success.
Moose audio:
TSN 1290 Winnipeg:  Kyle Connor playing his best hockey of the season.  Moose Assistant Coach Eric Dubois joins Rick Ralph and discusses the upcoming retro night, the strong play of Kyle Connor, Jack Roslovic, and how the team has improved since the start of the season.