Note:  The Jets suffered an all too familiar disheartening late game loss after fighting back from a three goal deficit to the top ranked Wild.  The team will hit the ice at 12 noon for a practice at the MTS Centre as they prepare for a pair of games this weekend.
Note II:  The Moose on the other hand seem to be putting it all together .  They won their third game in a row (for this third time this season) and Jamie Phillips secured his first AHL win in his second career start.  Kyle Connor's hot streak continues as he picked up a goal and an assist while Brendan Lemieux got the game winner breaking a goalless streak of 12 games.  Kyle Connor now has five goals and three assists in his last three games.  They have a few days to practice in Illinois before a Friday night re-match with the IceHogs.
Note III:  While the Jets are not expected to be overly busy today is trade deadline day.  Peter looked at the organizational needs of Winnipeg and Ez looked at some players that may be moved in advance of the clock striking the 2 pm CT deadline to make a transaction.  As always be sure to keep it keep it locked to illegalcurve.com for the latest news and be sure to follow us on social media including Twitter | Facebook | Instagram.
Note IV:  Tonight at 6 pm be sure to tune into NHL This Week with Illegal Curve for two hours of hockey talk as the guys break down all the moves on TSN 1290 Winnipeg.
Jets news:
Global News:  What to expect with the Winnipeg Jets on trade deadline day.  Kelly gives his thoughts on what might happen and how expansion plays into today.  
Winnipeg Sun:  Wild win after Jets rally.  While all losses hurt and all losses are, in theory, created equal there are certain ones that hurt more than others.  That one certainly kills a team when you fight back from a three goal deficit to tie the game and then lose with less than two and a half minutes to go.  Ken breaks it all down.
Winnipeg Free Press:  Savvy Wild crush Jets' comeback.  (Paywall).  They didn't become the 1st place team by accident.  While they weren't too pleased with their performance last night they will happily take the two points.  Mike breaks it all down.
Winnipeg Free Press:  Jets players take their shots.  (Paywall).  These aren't the type you take on the ice as the mumps epidemic appears to be passing through the NHL once again.
Minneapolis Star-Tribune:  Jason Zucker's late goal give Wild 6-5 victory in Winnipeg.  Read about the game from a beat writer that covers the game from the Wild perspective.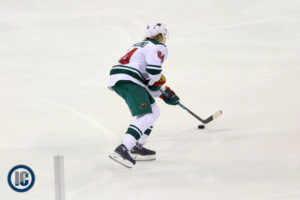 Sportsnet:  Wild learned quickly you never leave Patrik Laine open.  (Video).  Heck of a pass by Mark Scheifele over to Laine who briefly re-gained the rookie goal scoring lead on a beautiful one-timer.  Auston Matthews who was playing in San Jose later that evening tied him when he scored his 31st although Laine also picked up an assist so he currently has the rookie points lead by one over his Leafs rival.
CBC:  Jacob Trouba, Jets looking to finish strong.  Seems like folks want to talk to the Michigan native of late.  The good news is his suspension is over so he will be back in the Jets lineup this weekend.
Game 64:  Wild 6 Jets 5:
Illegal Curve:  Post-game recap.  Head into both rooms to hear from the Jets (Wheeler, Scheifele, Perreault), Wild (Haula and Kuemper) and then hear from both coach Maurice and coach Boudreau.
Moose news:
Official Manitoba site:  Peter Stoykewych, Kyle Connor three points apiece as Manitoba beats Rockford.  Includes a goal summary, game story, quick hits and what's next for the Jets AHL club.