Note:  The Jets start off a busy weekend against the second place in the Western Conference Blackhawks tonight at the MTS Centre with puck drop at 7 pm.  With Ondrej Pavelec sidelined for about a week, Connor Hellebuyck will may just his second start since January 13th as he looks to resume his dominance against Chicago.  The Jets will hit the ice at 10:30 am for morning skate and as always be sure to keep it locked to illegalcurve.com for pre and post game news and be sure to follow us on social media including Twitter | Facebook | Instagram.
Note II:  The Moose are looking to end a three game losing streak when they take on the defending Calder Cup champs tonight in Cleveland at Quicken Loans Arena.  The Moose will hit the ice for a morning skate at 10:15 am and puck drops at 6 pm.  Mitch Peacock will have the call on Moosehockey.com with pre-game starting 15 minutes before game time.
Jets news:
Winnipeg Sun:  Five keys to a Jets victory.  Ken's list includes: 1) Win the goaltending battle. 2) Captain clutch. 3) Back to the Future. 4) Don't forget about Hossa. 5) Fourth line production.  Ken's big match-up is Patrik Laine vs. Artemi Panarin.
Winnipeg Sun:  Jets looking to sweep season series vs Central Division powerhouse.  As I tweeted following practice have to enjoy Hellebuyck's Wings fandom from his childhood dislike of the Hawks.  Ken writes about the Jets success against this league powerhouse.
Winnipeg Free Press:  Slimmer goalie pants no bother for Winnipeg duo.  (Paywall).  As with most innovations in the NHL the players are usually pretty quick to adjust.
Winnipeg Free Press:  Jets look to rekindle old magic.  (Paywall).  Not sure whether this new (old) pairing of Tobias Enstrom and Dustin Byfuglien is as interesting as seeing Josh Morrissey paired with Jacob Trouba.  Mike also writes about the Jets success against the Hawks this season.
Winnipeg Free Press:  Maurice made right call by putting Laine on the bench.  (Paywall).  Former NHLer turned writer gives his insight into the move of the Jets prized rookie to the bench for parts of the game against the Wild.
Globe and Mail:  Coach Maurice 'glad' Pavelec pulled himself from game after injury.  I suspect some fans wish he did this before the start of the game but the Jets bench boss spoke about how had the goalie not pulled himself it could have turned into something much more significant.
RDS:  Mathieu Perreault a good option for the Habs.  (French).  For our readers who have French in their repertoire you can read this article about the Jets centre/winger and why he could be a good option in his home province.  While my français skills were put to the test you can also use google translate to give you the gist of why the author thinks #85 would be a nice fit in La Belle Province.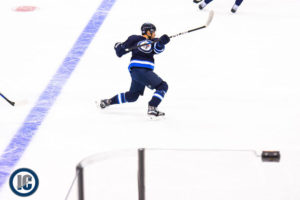 Metro News:  Jets' fans patience wearing thin.  Fans and patience are not two words that generally go together well at the best of times, especially not in our instant gratification society.  However as Hust writes Jets fans have been waiting six years to see this team take that next step and the list of areas needed to improve is still a long one.
Illegal Curve:  Jets Practice Report.  A look at the lines and D pairs that coach Maurice ran at the skate at the MTS Centre yesterday as well as audio from Blake Wheeler, Connor Hellebuyck and coach Maurice.
Jets audio:
TSN 1060 Hamilton:  Cheveldayoff is a very patient GM.  TSN 1290's Darrin Bauming joins Tatti and Marsh to discuss Winnipeg Jets goaltending, the demotion of Patrick Laine the other night, and potential feelings players may have towards Head Coach Paul Maurice.