Note:  The big news of Monday was that Alexander Burmistrov had been claimed by the Coyotes.  However, today the focus is on the Lightning as the Jets are in Tampa Bay to kick off their first road trip of 2017.  As always be sure to keep it locked to illegalcurve.com for pre and post game news and on social media including via Twitter | Facebook | Instagram.
Note II:  The Moose are looking to keep their 2017 good feelings rolling following a 4-1 win over the Checkers on New Years Day.  Tonight the Toronto Marlies are in Winnipeg for a pair of games against Manitoba.  Puck drops at 7 pm at the MTS Centre and I will be joining Mitch Peacock to provide colour analysis for the next couple of Moose games during the broadcast.
Jets news:
Winnipeg Free Press:  Jets brass preach patience with Hellebuyck and Hutchinson.  (Paywall).  While the Jets bench boss has been less than pleased with his goalies of late it doesn't sound like he is ready to toss the baby out with the bathwater.
Winnipeg Sun:  Burmistrov's run in Winnipeg is over.  The big news of the day yesterday was that Alexander Burmistrov would be moving on to Arizona.  Ken offers his take on the move.  You can read the Arizona Republic take on it here.
Winnipeg Sun:  Pavelec not pondering promotion.  Paul was chatting with the Moose goalie about what is happening up with the big club.
Winnipeg Sun:  What's next for Laine?  Ken looks back at all of the accomplishments for the Jets super rookie in 2016 and ahead at what may be in store for the Finnish sensation.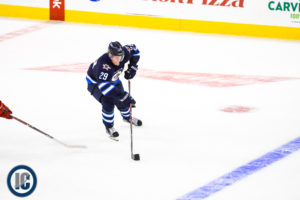 Winnipeg Free Press: What do you call a press box without press?  The story doesn't originate with the Jets but Paul ties it into it.
NHL.com:  Jets open 2017 with upbeat practice in Tampa.  Jets reporter Mitchell Clinton has this report from Tampa.
Illegal Curve:  Tyler Myers on the road trip with the Jets.  Somewhat lost in all the hubbub about Alexander Burmistrov being claimed was the news that Tyler Myers had joined Winnipeg for the road trip.  Coach Maurice provided an injury update on the tall defenceman.
Jets audio:
Illegal Curve:  Winnipeg Jets Practice Report.  Hear from Mathieu Perreault and coach Paul Maurice.
Moose news:
Winnipeg Free Press:  Life on the buses tough on new Moose.  (Paywall).  It may be tough but you have to think long term it will pay dividends.  For every Patrik Laine or Auston Matthews that make it into the NHL immediately you have to think of players like PK. Subban, Duncan Keith, Carey Price, Jamie Benn, Tyler Johnson, etc etc who have spent some time developing in the AHL first.