Note:  Today is day 3 of Jets Development Camp and group A will take on group B in a scrimmage at 6 pm at the IcePlex.  The cost is $10.00 and proceeds go towards the Winnipeg Jets Hockey Academy.
Jets news:
Winnipeg Free Press:  Poolman not a 'rushing' defenceman.  (Paywall).  Slow and steady wins the race we are told and that appears to be a philosophy embraced by the product of East Grand Forks, North Dakota.
Winnipeg Free Press:  Roslovic's production doesn't tell the tale.  (Paywall).  You can see that his development has continued despite the adversity he has faced this past year.
Winnipeg Free Press:  Just happy to be here… really.  (Paywall).  Remarkable story by Scott.  While hockey is important it is always good to remember that it is simply a game.  Good to hear that Woods is doing well.
Winnipeg Free Press:  Jets prospects undergo endurance, fitness tests.  (Paywall).  It is not a fun day on the ice for the prospects as they are forced to endure these on-ice tests.
Winnipeg Sun:  Day 2 Notebook.  Ken gives you quite a lot to persue in this column covering Jack Roslovic staying in school (for now), Stallard loving getting the call from hometown team, Nogier has patience tested and testing day for prospects.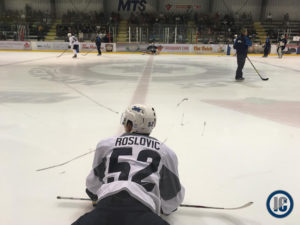 Winnipeg Sun:  Poolman stays in school.  You could clearly see that the East Grand Forks product had considered the jump to the pros.  However when weighed against the opportunity to repeat as NCAA Champions with UND, this time with his younger brother on the team, that was incentive enough to return to school for next season.
Global News:  Kyle Connor wants to make the jump to the Jets now.  From what we've seen at Development Camp it shouldn't be too difficult a jump for the prospect who has been turning heads in the first couple of days.
Jets audio:
TSN 1290 Winnipeg:  Donvito Roundtable.  Tim Campbell of the Winnipeg Free Press discusses the Jets Free Agent Signings, new Assistant Coach Jamie Kompon, development camp and projected lines for next season.
TSN 1290 Winnipeg:  Brendan Lemieux.  Paul Edmonds chats with the prospect about Jets development camp, his time with the Moose last season, getting traded from Barrie to Windsor, and Jets first round draft pick Logan Stanley.
Illegal Curve:  Group A.  Hear from Logan Stanley and Tucker Poolman as the 2016 1st round pick and 2013 5th rounder  (and NCAA champion) spoke to the media following the on-ice training at MTS IcePlex.
Illegal Curve:  Group B.  Hear from Jacob Cederholm speaking about the post-Buffalo draft experience and his initial thoughts on Winnipeg.
Moose news:
Illegal Curve:  John Albert is off to Finland; Who will be the next Manitoba Moose captain?  With the captain off to Finland the next question is who will be the captain of the squad for 2016-17 season.