Note:  The Jets will hope to continue their hot road play of late (5-0-1) tonight in Raleigh as they take on the Hurricanes at 6 pm.  As always stay tuned to illegalcurve.com and our social media including Twitter|Facebook | Instagram for pre and post game news.
Note II:  The Moose fly to Rockford this morning and then will practice in Illinois at 2:30 pm as they get ready for their 10:30 AM (yes 10:30 AM) game against the Rockford IceHogs on Wednesday morning.
Jets news:
Winnipeg Free Press:  Trouba keeps cool as rumours heat up.  (Paywall).  He isn't a player who outwardly shows too much emotion so I'm not surprised by his reaction to the trade talk.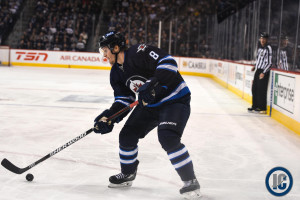 Winnipeg Free Press:  Slapshot sidelines Stuart.  (Paywall). Really not sure how he played an entire game with a break that will knock him out of the lineup for that long.  Tim also writes about the lack of production from the 4th line, bad ice in Raleigh making coach cranky and Enstrom's 600th NHL game.
Winnipeg Sun:  Ehlers finding place.  His talent is unmistakable but it was clear at points early on this season that sometimes he tried to do a few too many things on his own.
Illegal Curve:  Jets Practice Report.  A look at the lines coach Maurice used in practice yesterday in Raleigh.  Also includes audio from Adam Pardy and Ondrej Pavelec.
Jets audio:
Illegal Curve:  Coach Maurice scrum.  Status of Lowry and Stuart.  What are they losing with Stuart? Challenge for Pardy.  The speed the 1st line brings.  Have Little/Wheeler mentored Ehlers.  Is he getting impatient with the lack of production from the 4th line? Any reason he was unhappy during practice?
Moose news:
Illegal Curve:  Moose got loose at the Assiniboine Park Zoo.  Yesterday the Manitoba Moose organization and the Assiniboine Park and Zoo put on quite an event during Louis Riel day which delighted many young fans who got to spend time at the Journey to Churchill exhibit as well as meeting some Moose players.