Winnipeg Free Press:  Adrenaline pump switched on.  Holding 3rd period leads is something that teams need to be able to do if they plan to have any success in this league.  Having done so in the last two games, the Jets are starting to show that they can be the type of team that coach Noel has been striving to achieve.
Winnipeg Free Press:  The group of 7.  Stay tuned Jets fans, because it appears that after tonight's meetings we will have an idea of which division the Jets will be playing in.  A modified central, including the Jets and Dallas Stars is looking more and more likely.
Winnipeg Sun:  Jet doing Little things.  His demeanor hasn't really shifted throughout this season.  Both when he was in the slump and now when he is getting points in bunches, Bryan Little seems to maintain an even keel.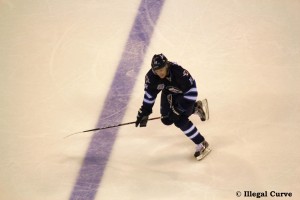 Winnipeg Sun:  Jets eye re-alignment.  While the various scenarios are nice to debate what really matters is will 20 of 30 GM's put aside what is best for their individual teams and make a decision that is best for the league?  Detroit, who is the biggest player in the 'move east' push sounds like they will reluctantly stay in the West as long as they get a situation where they travel to the Pacific region minimally.
Peterborough Examiner:  Flood making most of Jets opportunities.  He has been a solid addition to the Jets decimated defensive corps and continues to earn the trust of coach Noel.   His ice time has continued to increase having gone from 10 minutes against Senators, to over 15 minutes against the Devils.
Globe and Mail:  Jets' Evander Kane bangs, buries his way into limelight.  Jets fans know they have a rare talent in Kane.  He has the tools as well as the desire to be one of the best players in the league.

Affiliate news – St. John's IceCaps:
The Telegram:  Road tested IceCaps return to St. John's.  What a return to the AHL the IceCaps have made.  Unlike their parent club the Caps are road warriors taking a point from all 10 of their road games (including 8 regulation wins).  This is all the more impressive considering the players they've lost to injury or call-up to the Jets.
Next opponent news – Boston Bruins:
ESPN:  Tyler Seguin gets up to speed.  A really interesting article on the development of the Bruins sophomore center who hasn't shown any regression in his game this season.
Globe and Mail:  Bruins, Pens prepare for first battle of season.  This game is going to be a big battle, which a well rested Jets team is going to have to take advantage of, considering the Bruins will leave Pittsburgh late at night, fly 1000+ miles to Winnipeg to play the Jets on Tuesday night.
Toronto Star:  Poised, brainy Bruins have the look of a dynasty.  While the Bruins were simply spectacular in November, are they ready to take the title of best in the East?  We will find out Monday night in Pennsylvania.