Note:  The Jets will hit the ice at 2 pm for practice in Nashville as they try and right the ship ahead of a Saturday night contest against the Predators in Tennessee.
Note II:  We have almost hit the midpoint of #Movember and it is important to recognize the effort of our own Ezra Ginsburg who has donated his face to support this worthwhile cause.  You too can support it by supporting him with a #Movember donation with funds going towards men's health research.  To help support Ezra, click here.
Jets news:
Sportsnet:  Should the Winnipeg Jets re-sign Dustin Byfuglien?  It is a question that fans have been asking (and answering) for the entire summer.  Anytime you find yourself grappling with the above question helps to pair it with Richard's analysis of what a contract for big #33 might look like.  For that analysis click here.
Winnipeg Free Press:  Struggling Jets undone by inept special-teams play.  (Paywall).  They didn't put the special in special teams by any stretch of the imagination.
Winnipeg Free Press:  Sluggish, defence-deficient Jets fall to hot Stars.  (Paywall).  Once again we saw that it is easy to say all the right things in advance of a game but when push comes to shove, making theory a reality is a lot more difficult.
Winnipeg Sun:  Slumping Jets revert to bad habits in loss to front-running Stars.  It was a sloppy game for the Jets and when they had a chance to take control on Tyler Seguin's double minor they just didn't have that extra gear necessary to take control of the contest.
CBC:  Winnipeg unable to overcome weaknesses against Stars.  Fans have to be hoping this isn't a season defining road trip.
Dallas Morning News:  Stars turn wild first period into statement win over division opponent, def. Jets 6-3.  Always interesting to read about the game from a Dallas perspective.
Sportsnet:  Jets Prospect Report.  An update on the development of key Winnipeg Jets prospects with up-to-date stats, videos, analysis and scouting reports.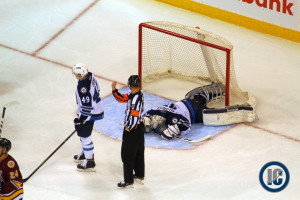 Illegal Curve:  Did Nic Petan miss an opportunity with the Manitoba Moose?  Peter gives you his analysis on why the Jets may have been better served sending Nic Petan to the AHL to start the season.
Illegal Curve:  Paul Maurice named to Team Europe's World Cup coaching staff.  In case you missed it, Jets coach Paul Mairice seemed sincerely pleased at his addition to the staff.
Stars 6 Jets 3:
Illegal Curve:  Coach Maurice post-game scrum:  Did he like tonight's game better? Did he see anything on the four minute power play that his PP unit wasn't doing? Did he see his team playing with more pace? Were the breakaways a lack of communication?
Moose news:
Winnipeg Sun:  Moose coach sees positives in loss to Chicago Wolves.  It was pretty clear that the team was able to produce a lot more offense as well as offensive chances than they have previously.
Chicago Daily Herald:  Chicago Wolves extend winning streak to six.  Worth noting that this Wolves team has just lost once in regulation all season long as former Thrashers head coach John Anderson has Chicago buzzing.  The Wolves were outshot significantly by the Moose.