Note:  The Jets return home after a four game road trip in which they went 3-1-0.  The team has the day off today after playing two sets of back to backs on the road.  They will hit the ice again on Thursday.
Note II:  Don't forget that the Moose return to the MTS Centre for their home opener tomorrow night as AHL hockey returns to Winnipeg with puck dropping at 7 pm.
Note III:  NHL this Week will be on TSN 1290 Winnipeg tonight, after the BlueJays game at 7pm. Jets road trip recap and a preview of Friday's home opener.  Guests:  George Johnson (Calgary Herald) and Mike Colligan (Forbes).
Jets news:
TSN:  Statistically Speaking: Jets' Ehlers a high-flying rookie.  The Jets 2014 1st round pick get some love in this article.
ESPN: Jets' efforts have them on the rise.  ESPN did an ultimate sports franchise list comparing all four leagues and the Jets are moving on up in the rankings.  They went from 97th last year to 69th this time around.
Winnipeg Free Press:  Jets end road trip with 4-1 win over Rangers.  (Paywall).  Ed breaks down the final win of the Jets four game road trip.
Winnipeg Sun:  Jets shine on Broadway.  Another game, another goalie putting on a performance.  Hutchinson was spectacular throughout the night and helped add another couple of points to the standings bank.
Winnipeg Sun:  Magic moment for rookie Nikolaj Ehlers.  The other night we joked that Nic Petan's first NHL goal would, years down the road, morph into a slap shot top corner instead of a puck that re-directed off his skate.  Well Nikolaj Ehlers won't need to create such a tale as he scored a beauty last night on Henrik Lundqvist.  If you'd like to see the goal and hear from Ehlers post-game chatting about his first NHL goal click here.
CBC:  A few thoughts on the road trip that was.  Ten thoughts on the road trip including: 1) Hello, Mark Scheifele 2) Ehlers nets 1 NHL goal 3) Still with Ehlers 4) Pav and Hutch 5) What's going on with Bryan Little 6) Ups and downs 7) Four lines 8) Penalties 9) Good signs and 10) End of the road.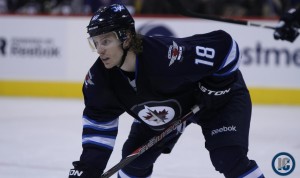 New York Post: Rangers' streak snapped as physical Jets take control.  Read a Rangers beat writer recap the contest with a focus on the game from a NY perspective.
Jets 4 Rangers 1:
Illegal Curve:  Coach Maurice post-game scrum.  On bouncing back.  Importance of Nikolaj Ehlers goal.  Solid goalie performance.  On the Jets PK.  Little getting two goals.  Did the shorthanded goal help the team.  Using entire bench.  Status of Ben Chiarot.  Did he learn anything about his team on this four game trip that he didn't know previously?
Moose news:
Winnipeg Free Press:  10 questions with Manitoba Moose head coach Keith McCambridge.  (Video).  Jets goes one on one with the Moose coach and asks these ten questions.
Global News:  Moose happy to be home.  And it appears fans are happy to have them.  Expecting a sellout tomorrow night at the MTS Centre.