Note:  Today is the final day before Free Agency begins tomorrow at 11 cst.  Are you ready?  Well keep it locked to illegalcurve.com for any Jets updates and we will provide you with that notification via our twitter account @illegalcurve as well.
Jets news:
Winnipeg Free Press:  Jets make offers to four restricted free agents.  Just four of seven were given qualifying offers yesterday.  Which means the Jets will not extend qualifying offers to Ellerby, Olkinuora & Holland.
Winnipeg Sun:  Moment of truth nearly at hand for Jets.  We are almost past the conjecture stage as we get ready to see what Jets GM Kevin Cheveldayoff is able to accomplish with his UFAs.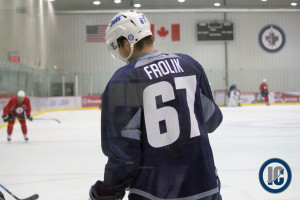 Winnipeg Sun:  Free agents the Jets might target.  Ken hits you with six players who he could see as a fit wearing a Jets uniform this upcoming season.
Montreal Gazette:  Is free-agent winger Michael Frolik on Canadiens' radar?  Might the Jets #67 be heading off to "La belle province"?
Audio:
TSN 1290 Winnipeg:  The Rona Roundtable.  Troy Loney, 2-Time Stanley Cup Champion and Co-Owner of the USHL's Youngstown Phantoms discusses Winnipeg Jets' first round pick Kyle Connor and the emergence of the USHL as a premier league for Junior Hockey.
TSN 1290 Winnipeg:  The Rona Roundtable.  Guy Flaming recaps the 2015 NHL Draft and discusses the NHL Jets selections.
TSN 1290 Winnipeg:  The Big Show.  TSN's resident scout Craig Button joined the Big Show to break down the NHL draft including the Boston Bruins puzzling weekend, the winners and losers at Sunrise, Florida and how the Jets continue to add to one of the best prospect systems in the NHL.
TSN 1290 Winnipeg:  The Big Show.  Gary Lawless joined the Big Show to discuss the contract status of impending free agents Michael Frolik and Drew Stafford, a contract extension for Dustin Byfuglien, and why the Jets walked away as a clear winner from the draft.