Note:  Jets fans across this province as well as anywhere else in the world are trying to digest how a team many predicted could go deep in the playoffs are instead the first team out of the 2015 NHL post season.  While fans wanted to see Winnipeg advance as far as possible they certainly didn't hold back in their outpouring of support following the game 4 loss.
Note II:  The Jets will take the day off today and conduct end of season interviews on Friday.  Be sure to follow us on social media @illegalcurve, Facebook and our Instagram account for pictures and the latest Jets news.
Note III:  Tune into a special edition of NHL Mid-Week with Illegal Curve from 6 pm until 8 pm on TSN 1290 Winnipeg.  The guys will break down the Jets/Ducks series and take a look around the rest of the NHL.
Jets news:
Winnipeg Sun:  Jets were banged-up heading into series.  Coach Maurice indicated that eight players had injuries, four in advance of the series against the Ducks and four which occurred during the series.  There was no question to anyone who has watched this team all season that a number of players were not playing at their usual levels so this comes with little surprise.
Winnipeg Free Press:  'I'm proud of how everybody played,' Stuart says.   The players left everything they had out on the ice but in the end it wasn't enough and the post-game hand shakes which have become a symbol of this team's closeness took place among the Jets but as well it occurred with the Ducks signaling the end of their 1st round series.
Winnipeg Free Press:  GM can use post-season failure to make Jets better.  Hard to believe that the self-reflection already begins with the body of the Jets playoff chances barely grown cold but such is the nature of the game.
Winnipeg Sun:  Long grind left Jets tank empty.  In the end after a month of playing playoff hockey the Jets just didn't have any magic left for the playoffs.
Winnipeg Sun:  Ducks complete the sweep, knock Winnipeg Jets out of playoffs.  Ken breaks down the tough game 4 loss the Jets suffered last night.
Globe and Mail:  Jets lose Game 4, swept out of the postseason.  The question 'Why not us' was answered last night as a Ducks team that seemed to have a counter to every Jets advance ensured they flew home to California with plenty of time to heal from this first round series.
NHL.com:  Winnipeg fans salute Jets despite playoff sweep.  It really was an epic display by the faithful at the MTS Centre.
Sportsnet:  Jets season a step in the right direction.  Rome wasn't built in a day and I guess the Jets won't become Stanley Cup champions overnight.  A long read from Cox who spent the series in our province.
Sportsnet:  Byfuglien deposits Fleischmann into Jets bench (video).  It was the best (Jets) highlight of the 2nd period and one that had Jets fans on their feet for the umpteenth time.
CBC:  Heartbroken Jets fans thank team for great season.  Fans are trying to do whatever they can to make sense of the four game series sweep.
CBC:  PM Harper's jersey choice raises eyebrows among Winnipeg hockey fans.  I really didn't see it as big a deal especially considering he represents all of Canada and he spent almost all his free time during intermission taking pictures.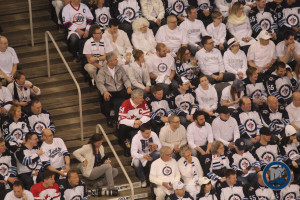 Game 4 – Ducks 5 Jets 2:
Winnipeg Jets:   Ondrej Pavelec, Bryan Little. Blake Wheeleer, Andrew Ladd and Mark Stuart.  To listen click here.
Anaheim Ducks:  Coach Boudreau, Corey Perry and Ryan Getzlaf.  To listen click here.
Coach Maurice post-game presser:  Coach Maurice met with the media following the game against Anaheim.  To listen click here.
Pressbox Podcast:  Host and analyst Richard Pollock break down the Jets play against the Ducks this evening.  To listen click here.
Jets on a Deadine:  Game recaps, post-game audio, video highlights and the NHL.com 3 Stars of the night.    Click here.