Note:  Last night was a special night for the city of Winnipeg as the home town hockey team had their ticket to the dance punched courtesy of the Flames knocking off the defending Stanley Cup champion Kings.  Once word spread that Winnipeg would be in the playoffs fans did what they usually do whenever they celebrate something hockey related…they went to Portage and Main.
Jets news:
TSN 1290 Winnipeg:  Rona Roundtable.  Scott Brown, Senior Director, Corporate Communications for True North Sports and Entertainment discusses Winnipeg Jets playoff ticket sales and wearing white at home games.
1031 Virgin Radio:  Jets Playoff Anthem.  Ace and his crew deserve big kudos for this little ditty.
Winnipeg Free Press:  Shake the roof in white.  Now that the playoffs are finally here Gary writes about the city reclaiming one of our best traditions of the past being the #WpgWhiteout.  There seemed to be some differences of opinion but this was quashed when the team embraced the Whiteout immediately following the news that they would be in the playoffs.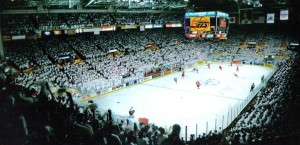 Winnipeg Free Press:  'They hung in there when it was dark and ugly,' Coach Maurice says of Jets' playoff clinch.  It has been a long time coming for the many of the Jets/former Thrashers like Little, Enstrom, Slater, Thorburn.
Winnipeg Free Press:  Celebrating Jets fans flock to Portage and Main.  Another grand Winnipeg tradition is to head to Portage and Main to takeover the most famous intersection in all of Canada.  It was pandemonium last night.
Winnipeg Free Press:  Jets realize playoff dream.  Ed breaks down the win including: 1) One eye on Denver, the other on Calgary 2) Ondrej the Giant stands tall; Berra slightly taller 3) One man out, one man in? 4) Maurice hits 1,200 and 5) OT/Extra fun.
Winnipeg Sun:  Jets lose in shootout to Avalanche but qualify for playoffs anyway.  Ken breaks it down from the Pepsi Center following a see-saw game between Winnipeg and Colorado.
Winnipeg Sun:  Jets fans prep for Whiteout.  While the fans wanted to renew this tradition, with or without the approval of the team, it will go a lot easier now that the Jets have endorsed it.
Winnipeg Sun:  Byfuglien says he's lucky Rangers' Miller wasn't hurt.  It was clear that #33 was contrite about the cross-check.
NHL.com:  Five reasons Jets clinched playoff berth.  Patrick gives you his five reasons including: 1) Improved depth at forward 2) Goaltending 3) Home ice 4) Structure and 5) Mauirce.
Denver Post:  Berra sparks Avs to 1-0 win.  While last night felt like a win for Jets fans the team actually lost the game in the shootout.  Read about the game from an Avalanche beat wrtier's perspective.
Globe and Mail:  Sensational day for Canadian teams as Flames, Jets clinch playoff spots.  All of Canada was cheering last night as two more Canadian teams are joining the post-season party and the Senators are also one step closer.
NBC Sports:  Pavelec paves way to Jets' first playoff berth back in Winnipeg.  Back to back to back shutouts for the Jets #1 netminder who single-handedly willed his team in this final road trip of the regular season.  He was under the weather but certainly didn't look like he was feeling poorly based on his play on the ice.
CBC:  The original Winnipeg Jets White-Out.  They searched the vault and found this from the archives. 
Yahoo Sports:  Winnipeg fans crowd surf in celebration of Jets' playoff clincher.  All across North America they are talking about the little city that not only could but did last night.
Illegal Curve:  Stanley Cup playoff tickets go on sale.  Individual tickets are going to be available for purchase starting on Tuesday for games 3 and 4.
Avalanche 1 Jets 0 in SO (post-game audio):
Illegal Curve:  Jets players audio.  Hear from Andrew Ladd and Blake Wheeler.
Illegal Curve:  Coach Maurice scrum.  A memorable 1200th game.  His thoughts on getting into the playoffs.  On how far this group has come since he took over.  On what Pavelec has gone through and finished road trip with three straight shutouts.  How does he envision the playoff atmosphere at the MTS Centre.  Where does this rank for him?