Note:  It is a 3 pm puck drop today at the MTS Centre for the Jets and Kings.  As always stay tuned for the latest Jets news from @illegalcurve.
Standings watch:  Wild won.  Sharks lost. The Jets remain in the first wild card spot one point up on Minnesota (1 game in hand) and four points up on Calgary (1 game in hand).
Jets news:
CBC:  5 Things to watch.  Jeff looks at these five topics in advance of puck drop including; 1) Playoff attitude 2) Getting the points 3) Special teams 4) Wheeler is back and 5) Between the pipes.
Winnipeg Free Press:   It's a Madhouse.  I think everyone who follows hockey would be excited to watch the reaction of the home crowd to the first NHL playoff game in this city since 1996.
Winnipeg Free Press:  Wheeler ready to go back to work against Kings.  Fans had to be excited to hear that the speedy winger was back on the ice on Saturday.  He sure sounds ready to play and the team can use his skills.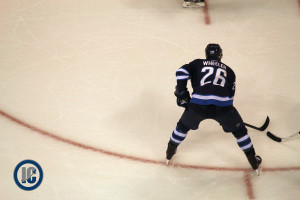 Winnipeg Sun:  Wheeler feels pain of missed games.  He is the type of player who doesn't miss hockey games very often so he had to be champing at the bit to get out of pressbox purgatory and back on the ice with his fellow Jets.
National Post:  A look at buyers and sellers at the NHL trade deadline (video).  Winnipeg gets discussed starting at the 5:12 mark of the video.
Sportsnet:  Coach's Corner (video).  At the 4:33 mark of the video Don talks about Scheifele thanking Slater for bailing him out during OT.
Sportsnet:  Real Madrid's Benzema sports Winnipeg Jets hat.  Apparently this is significant although I'm a tad ignorant when it comes to soccer.  Unless you count my time as a member of the ultra competitive Vince Leah Stings.
Illegal Curve:  Jets Practice Report.  A look at the lines that coach Maurice used during practice at the MTS Centre.  Also has audio from captain Andrew Ladd and Blake Wheeler.
Jets audio:
Illegal Curve:  Coach Maurice scrum.  Will Blake Wheeler be a player tomorrow?  How did he look?  Planning on keeping him with Lowry and Thorburn?  Would help spread out the scoring?  Does he see any similarities in the way plays against Kings as they did against Blues?  Is part of putting Wheeler on 3rd line about monitoring his minutes?  Updates on injured players.   On how the Kings are playing.  On how Hutchinson has handled the stretch?  Expecting more from Tlusty moving forward?  Was last game Mark Stuart's best game since his return?  On the composition of the lines at skate today.
Kings news:
L.A. Times:  Andrej Sekera adjusting to the Kings and their style.  The Kings newest addition seems to be settling into the championship mold.
Illegal Curve Hockey Show:
Part 1:  0:00 – Jets lose in SO to Blues, Jets/Kings preview.  17:35 – Jets trade deadline preview.  28:15 – Leafs trade David Clarkson to Columbus for Nathan Horton.  42:54 – Devils trade Jagr to Florida, Flyers trade Timmonen to Chicago.  53:58 – Central Division: Nashville, St Louis, Chicago.  1:05:43 – Central Division: Minnesota Dallas, Colorado.
Part 2:  0:00 -Pacific Division.  12:19 – Pacific Division. 26:06 – Atlantic Division.   40:46 – Atlantic Division.  51:35 – Metropolitan Division.