Note:  The Jets have a mini two game road trip which starts tonight in Washington as a depleted Winnipeg roster attempts to secure critical points in the Western conference standings.  They will have to battle a tough Eastern conference opponent as the Capitals have been playing very well.
Standings watch:  Blackhawks lost in shootout, Flames lost in overtime, Wild won in overtime, Kings won, Avalanche lost.
Jets news:
Winnipeg Free Press:  Jets, Panthers could have something to offer each other.  He is one of several names that has been frequently mentioned as a possible target by the Jets.
Winnipeg Free Press:  Byfuglien deserves consideration for the NHL's top individual honour.  Ed makes the case for throwing Byfuglien's name into the hat for MVP.
Winnipeg Free Press:  Perreault's long-term injury has ripple effect.  It will be interesting to see how the Jets deal with the adversity.
Winnipeg Sun:   Can Jets weather another storm?  First it was the defence and now the forwards have taken a hit.  Many fans are wondering if GM Cheveldayoff will make another move or if the rejiggered forward lines can sustain this latest round of injuries.
CBC:  Jets fans pack MTS Iceplex for open practice.  It may have been a Wednesday morning but it seemed like the weekend as the MTS IcePlex was packed with Jets fans to watch the Jets before they departed for Washington.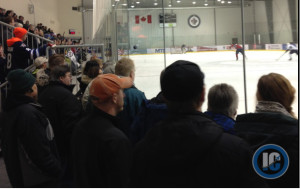 NHL.com:  Injuries up front could lead Jets to seek further help.  Patrick discusses what the latest round of injuries could mean to a team not terrible deep at the forward position.
Sportsnet:  Gazdic talks about the Byfuglien hit (video).  Luke Gadzic was able to add some levity to the now famous hit on him by Dustin Byfuglien that basically knocked him upside-down.
Vancouver Sun:  NHL players prefer Anywhere But Canada.  Cam Cole addresses the idea that players would prefer to not be in most Canadian markets.
ESPN:  Most common no-trade destinations (requires subscription).  Oh Canada.  Well good news Jets fans is the city of Winnipeg is not first on the list.  Fact is when Edmonton was winning Stanley Cups in the 80s I suspect it was regarded as a great place to play.  Same goes for Detroit (for last 23 and soon to be 24 years).
Illegal Curve:  Dustin Byfgulien tells Jets coach Paul Maurice "whatever you need".  He is usually a joker but today Dustin Byfuglien was quite serious when he told his coach that he will fill whatever position the team needs.
Illegal Curve:  Update on the status of Matt Halischuk.  Sounds like he will be back at the beginning of March.
Illegal Curve:  Mathieu Perreault is out with a significant lower body injury.  Looks like he will be done until the end of the season.  Only good news is that Stafford is day-to-day and should be at the skate tomorrow morning in Washington.
Jets audio:
TSN 1290 Winnipeg:  Rona Roundtable.  Dusty Imoo, St. John's IceCaps Developmental Goalie Coach spoke with Rick Ralph about Conor Hellebuyck's & Michael Hutchinson's success this season.
TSN 1290 Winnipeg:  Rona Roundtable.  Shane Hnidy discusses Mathieu Perreault's injury and looks ahead to the game vs. Washington.
Illegal Curve:  Coach Maurice scrum from IcePlex.  The Jets bench boss had plenty to say before he left for D.C. 
NHL Mid-Week:
Illegal Curve:  Replay.  0:00 – Jets defeat Oilers on Monday Night, suffer injuries to Perreault & Stafford.  12:40 – Make a(nother) trade or stand pat; the Jets response to the Perreault injury.  25:26 – Interview with John Walton, Broadcaster on the Capitals Radio Network.  40:12 – Jets-Capitals Preview.  50:47 – Interview with Josh Cooper, Puck Daddy.  1:05:43 – Leafs begin the rebuild, make trade with Nashville.  1:18:04 – Trade talk as March 2nd approaches.  1:31:02 – News & Notes.