Note:  Jets have one game at home before heading back on the road for a tough back to back against Dallas and Chicago.  Tonight a confident Panthers team will be looking to put the cherry on top of their Western Canadian road trip after they beat Vancouver, Edmonton and Calgary.  As always stick with @illegalcurve for the latest Jets news.
Jets news:
Winnipeg Free Press:  A year later, Jets coach has his team believing… in themselves, each other.   Ed writes about the improvements since the new bench boss took over the bench.
Winnipeg Free Press:  City deserves a Selanne statue.  If so I can think of no better image than him tossing his glove in the air after scoring goal #54.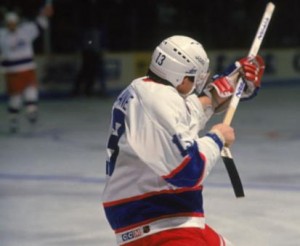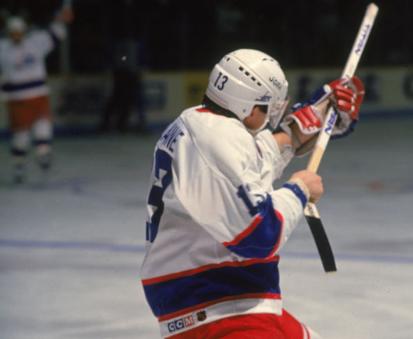 Winnipeg Sun:  Jets weekend – what might have been.  Ted looks back at the games and how the team did and what they may have been able to do with a few more points.
Illegal Curve:  How should the city honour Teemu Selanne?  I looked back at the relationship the city has had with the Finnish Flash since 1992 and wonder whether the city should do something to honour his memory.
Illegal Curve:  Jets coach Paul Maurice reflects on first year as bench boss.   We look back at his tenure for the past year and the piece ends with his reflections as Jets TV caught up with him.
The Hockey News:  Could Dustin Byfuglien win the Norris trophy?  Plenty of folks who support this team would probably like to see the big man get some consideration for the hardware.  Do you see him as a likely candidate with all he has done since the move back the defence?
TSN 1290 Winnipeg:  Hustler & Lawless (audio).  Dennis Beyak joins the guys to discuss the Jets most recent California swing. Dennis says the Jets can best stay in a playoff spot simply by limiting losing streaks, and also discusses Dustin Byfuglien's success playing defence, saying "Big Buff" is in best physical condition of his pro career.
TSN 1290 Winnipeg:  The Rona Roundtable (audio).  JP Vigier recaps the Jets three-game road trip where the team managed three points in three games.
Panthers news:
Miami Herald:  Kopecky's value to Panthers not always reflected in boxscore.  Lots of players bring intangibles that cannot simply be evaluated based on goals and assists.