Note:  The second and final game of this home stand goes tonight at 7 pm at the MTS Centre as the Jets put their three game winning streak on the line against the Penguins five game winning streak.  Be sure to stick with our comprehensive coverage throughout the day and following the game.  As always ensure you follow @illegalcurve on twitter for the latest and breaking news.
Jets news:
USA Today:  NHL one month in – 10 things we didn't see coming.  Number 5 mentions the Jets pushing for central division lead.  Kevin Allen doesn't give himself enough credit as he was one of the few pundits who prognosticated the Jets potential to challenge for 3rd in central.
Sportsnet:  30 Thoughts.  Jets are mentioned in thought 8 (trade chatter), 9 (defensive effort in win in Chicago) and 30 (playoffs which is good news for Jets fans).
Winnipeg Free Press:  Streaking Jets wary of Penguins' potent power play.  It is a laundry list of danger when the Penguins go on the man advantage and the Jets are going to need to be disciplined to avoid giving this squad any added advantage.
Winnipeg Free Press:  In Toby they trust.  The Jets defenceman speaks about the past streak the Thrashers put together which was similar to this one and how this is different than the one he experienced back in Atlanta.
Winnipeg Sun:  Bryan Little has evolved into a big player for the Winnipeg Jets as he plays 500th game.  Little has plenty of fans in this city as many have come to appreciate what he does on a fairly consistent and unheralded basis for the Jets.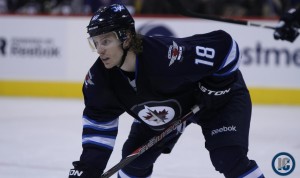 Winnipeg Sun:  Have the Winnipeg Jets turned a corner? Play in last six games says yes.  It certainly doesn't hurt fan enthusiasm when the team puts together a good run of wins.  It is one thing to win a couple, lose a couple but the Jets have been banking points and that is critical if you want to be playing meaningful games in April.  Say what you want about the importance of two points in October or November but there is no point in playing catch-up when you can be a leader of the pack.
ESPN:  Jets making hockey world take notice.  People are talking.  Talking about the Jets.  Pierre LeBrun writes about a Jets team that reportedly had some league executives speculating about a team that was better than people may have been expecting.
Metro News:  There's no way the Winnipeg Jets can keep this up.  While the Jets have beaten some good teams it appears that many believe this is just a mirage.  Perhaps a win tonight over the mighty Penguins can start to win over some of the doubters.
Sportsnet:  Tim & Sid (video).  A five minute segment with Darren Millard.  From about the 4 minute mark until 3:35 they talk Jets playoff chances.
Illegal Curve:  Coach Maurice scrum (audio).  On his team's play so far.  Team having found an identity.  Remaining even keel.  Has he seen something in Pavelec's game in last half dozen games?  Is Pavelec's commitment to fitness a sign of growth/maturity/pressure from above?  Will what they have been doing lately be sufficient against a team like Pittsburgh?  His vision for the 3rd line.  How important is it for Kane to get scoring?  How much of a difference has it made to have Kane back for their depth?  What's the most under appreciated facet of Little's game?  Any update on Peluso?
Illegal Curve:  Jets announce details for third annual Skills Competition.  If you'd like further details on the event here is the release as well as a links to the two previous skills competitions the team held.
TSN 1290 Winnipeg:  Hustler and Lawless (audio).  Hockey insider Darren Dreger joins Hustler & Lawless to discuss news from around the NHL. Dreger says the Winnipeg Jets are doing well, but that the season is long.
TSN 1290 Winnipeg:  Rona Roundtable (audio).  Shane Hnidy joined Rick Ralph for his "Notes at Noon" to discuss the Jets new-found commitment to defensive play on their six-game unbeaten streak.
TSN 1290 Winnipeg:  The Big Show (audio).  Dennis Beyak joined the Big Show to discuss goalie jinxes, the play of Dustin Byfuglien and Adam Lowry, and why a change behind the bench helped motivate the Jets for this year.
Penguins news:
Penguins Tribune:  Fleury deal perfectly sensible.  Some Penguins fans have a bit of a love/hate relationship with their main goalie but they better learn to start loving him with his shinny new contract.
Pittsburgh Post-Gazette:  Penguins notebook.  If you want to know about the Jets opponent here is some news about Pittsburgh.
NHL Mid Week:
Replay:  0:00 – Jets vs. Predators recap.  15:52 – Jets vs. Penguins Preview.  29:13 – Penguins sign Marc-Andre Fleury to contract extension.  39:25 – The week in the Central Division.  49:44 – Interview with Mike Heika of the Dallas Morning News.  1:05:32 – Surprising Teams: Vancouver Canucks & Calgary Flames.  1:13:39 – Penguins Preview & Interview with Mike Lange, radio play-by-play voice of the Pittsburgh Penguins.  1:30:58 – Jets vs. Penguins final thoughts.