Jets news:
Winnipeg Free Press:  Is change brewing in Jetsville?  Unless the organization is beyond convinced that a prospect can make the jump I just cannot see them rushing any players into the NHL simply to help for this season.
Winnipeg Free Press:  Scratching a seven year itch.  The odds are against the club appearing in the playoffs this season but that is why you play the game.  You never know what is going to happen.
Winnipeg Free Press:  Bench strength.  J.P. is back with his whiteboard and this time he is analyzing coach Maurice's likely impact in his first full season.
Winnipeg Sun:  Isn't it too soon for Ehlers to be a regular?  In addition to the question in the headline, Paul writes about the next prospect to make the jump to the Jets, Pavelec's game, the Kane question, Byfuglien on the wing, more support from the bottom of the lineup and the Maurice factor.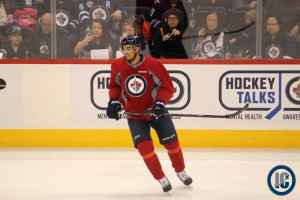 Winnipeg Sun:  Hockey writer Ken Wiebe talks Winnipeg Jets training camp from 1-2 p.m.    With training camp scheduled to start tomorrow Ken will be taking any and all questions you may have about the upcoming two weeks of Jets camp.
The Hockey Writers:  Throwing an Illegal Curve – Winnipeg Jets Q & A.   Our own Ezra Ginsburg answered 12 questions about the Jets for Chris Wassel and The Hockey Writers.  Give it a read.
TSN:  Bob McKenzie interviews Jets GM Kevin Cheveldayoff (video).  The TSN Hockey Insider sat down and chatted with the Jets GM for close to 18 minutes in this video.  Began with talk of the competition in the central division, single biggest difference under coach Paul Maurice, confidence in Ondrej Pavelec and need to improve the numbers,  has he done anything specific with Pavelec,  what does Kane need to do to get back to being a goal scoring winger, what did he think of Blake Wheeler's comments on Kane,  on Buff preferring to be defence over forward (Note:  Bob reversed D and F but we know what he meant),  commitment to Perreault, centres for foreseeable future, Lowry's advantage, having young players step in to pro ranks,  on Trouba's dominance, needing to make a bold move and ends with a fill in the blank of how the Jets can make the playoffs.  
Illegal Curve:  Jets release training camp schedule and roster.  While camp starts on Thursday the only sessions open to the public are those that take place at the IcePlex.  If you'd like to see who is on Team Blue and who is on Team White we have both groups listed.
Illegal Curve:  Jets re-assign six players in advance of training camp.  Five of the players will be heading to the IceCaps whereas the sixth is off to the QMJHL.