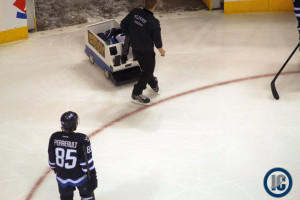 Jets fans waited over three seasons to see the first hat trick since the Jets moved from Atlanta.  Bryan Little got the first against the Colorado Avalanche on December 5th.  Just over a month later there is now a second one to add to that.
Fans weren't sure Perreault got the his third goal of the night as they took a little longer than usual examining the goal to see if he touched the Enstrom shot.  Only one fan tossed his hat onto the ice.
Eventually it was announced he got the goal and fans here went nuts.
He wasn't done there as Perreault added his fourth goal.  Still one period to go.  Will we see more?