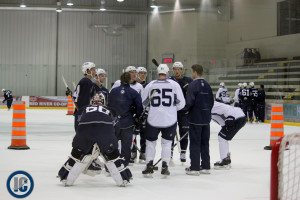 The roster got even more manageable for coach Noel as the team assigned five more players today to the IceCaps.
Ben Chiarot
Carl Klingberg
Julian Melchiori
Michael Hutchinson
Jerome Samson
Only Jerome Samson has to clear waivers.
There are now 32 players left in camp:
Forwards (19):
Evander Kane, James Wright, Jim Slater, Chris Thorburn, Eric Tangradi, Devin Setoguchi, Mark Scheifele, Anthony Peluso, Andrew Ladd, Bryan Little, Blake Wheeler, Patrice Cormier, Ivan Telegin, Adam Lowry, Eric O'Dell, Olli Jokinen, Matt Halischuk, Andrew Gordon, and Michael Frolik.
Defencemen (10):
Jacob Trouba, Zach Redmond, Josh Morrissey, Zach Bogosian, Adam Pardy, Paul Postma, Toby Enstrom, Mark Stuart, Grant Clitsome, Dustin Byfuglien.
Goalies (3):
Eddie Pasquale, Ondrej Pavelec, Al Montoya.
Which players do you expect not to make the opening day roster?  According to the NHL Rulebook:
"Prior to the start of the season, each Club must submit to the NHL its "Opening Day Playing Roster" which shall be comprised of not more than 23 players. Each Club must have a roster of at least 20 players, composed of 18 skaters and two goaltenders. Players on Injured Reserve do not count in the 23-man limit."
Share which players you DON'T think will be on the list.