At the conclusion of the Season Finale against the Montreal Canadiens on Thursday, the Jets literally gave the jerseys off their backs to fans who were randomly selected during the 1st and 2nd intermission.  For those who missed the giveaway here are some sights from this end of season promotion.  Enjoy.
Fans wait for the festivities to begin following the conclusion of the game:

The Jets flight crew rolls out the mats for the lucky contest winners:

The winners walking onto the ice at the MTS Centre:

Here come the Winnipeg Jets for the final time this season:

The Jets sign the jerseys that were given to fan: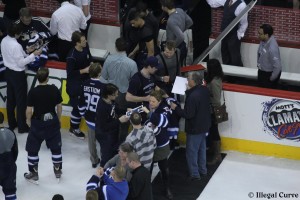 The fans also had a chance to chat and shake hands with the players:

Final centre ice salute for the 2012-13 Jets team:

And that is all she wrote as the team leaves the ice:

If you missed any of the end of the season exit interviews we have you covered:
Jets players (including Antropov, Trouba, Bogosian, Thorburn, Kane, Little, Slater, Ladd and Pavelec).