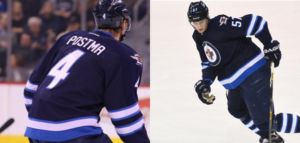 A week ago we heard from coach Maurice that Paul Postma was not healing quickly and he said they would make a decision in the next few days.   Today the coach provided an update on the defenceman:
"Paul Postma is very probably going to have surgery here in the next week.  That's really where its trending.  But that was true two weeks ago as well.  He had played on it during and it had just gotten to the point where he couldn't play".
Ten days ago we heard from coach Maurice that defenceman Tyler Myers was "making some improvements.  We are not far off.  We are thinking about getting him into consecutive days of skating so that's positive".  However today the Jets bench boss added this about Myers:
"He's going to get another look here in the next day or two, yesterday or today with a specialist and I can give you something better later."
With just five games left after tonight (season ends in 12 days) it would seem that these two might be done for the year but until we get official word from the coaching staff they are not officially done.