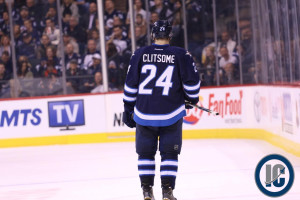 Grant Clitsome had back surgery in January of this past season which limited him to just 24 games in 2014-15.  An injury in 2013-14 limited him to just 32 games.
Winnipeg Jets coach Paul Maurice announced this afternoon that the always affable Clitsome "did not pass his physical" according to Patrick Williams of NHL.com.  The coach added "it is our expectation that he will not play hockey this season".
When asked if Clitsome would be around the team coach Maurice said "That is a decision that he is going to make.  Both Grant and the organization have a pretty clear understanding that he will not play hockey this year, so he is not going to be just traveling".
Tough news for the 30 year old defenceman.