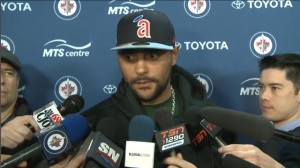 Dustin Byfgulien – Thoughts on the season.  Does he feel more confident about this team moving towards next season?  What is next step they need to take as a group?  What is biggest thing coach Maurice brought to the group?  Does he expect to be starting year as forward next season?  How frustrating was that move to forward?  What is his training schedule/approach off season?  How serious was the injury he sustained?  How did it happen?  Are the World Championships an option?  Is there a realization within the group of what it will take to get to the next level?  What is his role of helping team become more successful?
Quotes:
On prospect of being a forward again next season  – "I hope not".
Approach to off season – "I just check water temperatures and see where the depths are right now and go from there".