During the pre-game skate the Jets wore lavender warm-up jerseys which they are raffling off to fans.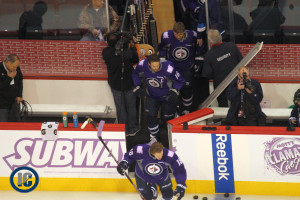 The Jets donated $50,000.00 to help fight cancer.  Here is Jets GM Kevin Cheveldayoff with four young survivors of cancer as he presents Cancer Care Manitoba with the cheque.
Capitals captain Alexander Ovechkin and Jets captain Andrew Ladd took the ceremonial face off and shook hands with the kids.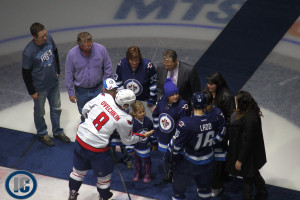 Here is the Jets press release:
The Winnipeg Jets Hockey Club is pleased to announce they donated $50,000 to the CancerCare Manitoba Foundation during the team's Hockey Fights Cancer Night on October 22, 2013, from fundraising initiatives held throughout the month of October.
The money raised will be specifically used for CancerCare's Pediatric Clinical Trials. Currently the Foundation funds 51 percent of the cost of trials for children and teens with cancer here in Manitoba. The participation rates have been increasing and as of last year, Manitoba had the highest participation rate in the country. This has been in large part because of the significant donations CancerCare Manitoba Foundation directs to this effort year after year – all the funds raised by CancerCare Manitoba Foundation stays in our province to benefit Manitobans with cancer and their families. 
During Hockey Fights Cancer Night, all Winnipeg Jets players wore special-edition lavender jersey during pre-game warm up. The jerseys were raffled off with all proceeds raised going towards the cause. All players' helmets featured a Hockey Fights Cancer decal while coaches, broadcasters and team personnel wore commemorative Hockey Fights Cancer ties.
Before the game on October 22, four kids who have benefited from Cancer Care's comforting environment – Slade, Trinity, Clay & Sofia – all participated in a ceremonial puck drop with Jets Captain Andrew Ladd, Jets General Manager Kevin Cheveldayoff and CancerCare Manitoba Foundation's Executive Director Annitta Stenning.
Hockey Fights Cancer is an initiative founded in December 1998 by the National Hockey League and the National Hockey League Players' Association to raise money and awareness for hockey's most important fight. To date, through the NHL's U.S. and Canadian charitable foundations, more than $12.8 million has been raised under the Hockey Fights Cancer initiative to support national and local cancer research institutions, children's hospitals, player charities and local cancer organizations.