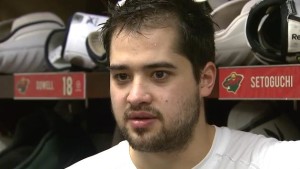 Listen to the teleconference:
Audio courtesy of TSN Radio 1290.
If you cannot listen while at work here are some of the comments he made and which we tweeted;
– found out about the trade from Zenon Konopka in Mexico. Excited for the opportunity and to get more ice time.
– Excited to play in Winnipeg, in front of the great fans. Know that there will be scrutiny on me and I embrace the challenge.
– Pretty simple style of play. Use my speed and my body as much as possible. "Shoot the puck and put goals in the net."
– Never know what's going to happen in terms of linemates but excited for the chance to play with Evander Kane.
– Only got to play the Jets one time, but I'm excited to be a part of a young team with an upward trajectory.
– I think my experience will be good in the locker room. I've only heard good things about the dressing room in Winnipeg.
– Only player on the roster I know is Bryan Little, played with him on the Under 18 team.
– Prefer playing on the right side of the ice (had been playing on the left side in Minn)
– Professionalism first and foremost but I like to keep things loose in the room when it's called for.
– Rivalry between Minnesota and Winnipeg will happen and now it takes on added significance and fun for me.
– Still a lot of arrangements I need to work out. Planning on making a trip out to Winnipeg in the next few weeks or month.
– First conversation with Jets GM was about how excited both sides were. Looking forward to coming into camp in great shape.
– Don't want to be labelled as a contract year player. Take the same approach year in and year out, regardless of contract status.
– Excited about the opportunity to get the Jets into the playoffs. That's the plan from day 1, working towards that goal.
– My parents are still in Taber, Alberta, and I know they're excited that I'm back in Canada. Can't wait to play in MTS Centre.
– No real connection to anyone in Winnipeg. Been to Winnipeg a couple times in Junior days (roomate was from Winnipeg.)
– Know Byfuglien and Ladd through my friendship with Kris Versteeg. Doesn't take hockey guys long to get together as friends.