The Jets new bench boss met with the media for his first interview for the 2014-15 pre-season.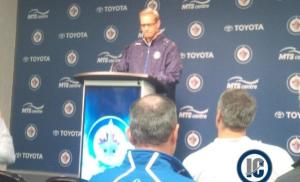 Host of the IC Hockey Show on TSN 1290 Winnipeg Drew Mindell was tweeting from the presser and here are those tweets for people who can't listen to the audio.
Coach Paul Maurice via IC twitter:
– I got here July 15th. My goal for this year is to start the process of this team becoming a top 10 team. Becoming a contending team.
– We are still discovering our talent. Function of our age as a younger team. Have some experience on those "younger players"
–  We're finding out where we are. We're not where we need to be, based on past results, but our time is coming, but when, I don't know.
– Our results, to this point, suggest we aren't a contending team, but that's the goal.
– Spent quite a bit of time this summer on changing systems to better suit our strengths.
– The players who play the most minutes, are the leaders. "Evander Kane will be a leader on this team because he will play big minutes."
– Whoever lives in Winnipeg, finds a way to love it here. The people here are special, excited about the season, excited about the team.
– We won't know the answer if this team will make the playoffs until April. What we do know is this team will work their butt's off.
– We are going to play an exciting, aggressive brand of hockey.
– If a player can come in and play, in a meaningful way, his age will be of no factor.
– I have no aversion to youth playing, as long as he is capable of doing the job.
– Our fight was good last year. We competed hard but the consistency of the quality of our game had room to grow.
– It's on us, as a coaching staff, to get these guys flying in the same direction.
– Some new systems coming in. A whole lot of coaching, a lot of teaching to come.
– The Blake Wheeler comments at the end of the summer were positive. One leader (Wheeler) talking to another leader (Kane).
– Both Wheeler and Kane look phenomenal. They both worked hard and improved themselves over the summer, and worked to make the team better.
– Mathieu Perreault brings speed and quickness to the team. Good faceoff guy. Skill into the lineup and a good compete level. Smart guy.
– Whomever Perreault plays with, that line will be relied on for offense. Not just defensive responsibility.
– We need to become a better defensive hockey team. Every championship team is responsible defensively.
– I didn't mind the spin-a-rama. We're already doing a shootout. Bring in 2 sticks, take the helmets off. (said tongue in cheek)
– Unfair to assess Ondrej Pavelec yet, because of the defensive breakdowns. We need Pavelec to be every bit better as every other player.
– Once the team is better defensively, with a better structure, then we can assess Pavelec.
– Come to training camp and you will see the areas that I'm focusing on that we need to improve on.
– We are going to spend everyday of training camp going over defensive systems and defensive responsibilities.
– This team is ready and willing to be more defensively responsible. Repetition is the key to getting better at it.
– This training camp will be punitive. This is the only time of year to really push a hockey team. The regular season just doesn't allow.No one injured coming into today's testing. From my understanding, everyone should be good to go for tomorrow.
– Q: would you like to see Evander Kane with a regular centre? A: Mark Scheifele. Byfuglien starts and finishes on Forward.
–