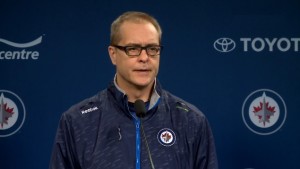 Coach Maurice –   How much will he be able to rely on Byfuglien?  How much of an intimidation factor have they been missing without Byfuglien?  What is he looking for from Pavelec?  On the Sharks.  Embrace the opportunity to put Sharks further into rear view mirror or is that a dangerous attitude?  Is Myers playing?  On the improved penalty kill?  On Pavelec's mental strength.
Audio courtesy of TSN 1290 Winnipeg.
Quick Synopsis:
– Byfuglien is a game time decision.
– Myers is back and will play tonight.