Coach Maurice met with the media following the game against the Hawks.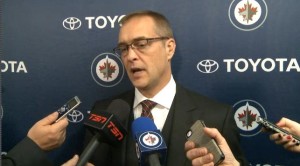 Coach Maurice – Assessment of the game.  Discussion on the bench.  On using Al Montoya for the first time.  Not letting the bench get quiet.  Taking advantage of turnovers.  Blake Wheeler taking his game to next level.  Mixing up the lines.  Buff's intensity.
Coach Maurice Quotes:
On the win – "That win right there is just a great sign of character!"
On Al Montoya – "I thought he shoula had the first one….." (clearly kidding).
On Blake Wheeler – "He's going to be a big part of this group for a long time"
On mixing up the lines – "I thought Buff was fantastic tonight and I wanted to make sure he was on the ice at the end of the game"