Coach Maurice met with the media following the game against the Avalanche.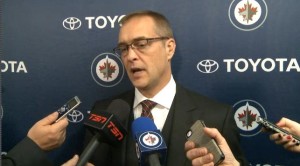 Audio courtesy of TSN 1290 Winnipeg.
Coach Maurice Quotes:
"Good battle. PK was outstanding. Our power play, for what little you saw, was 100%. Rest was pretty hard fought game"
"We gotta figure out a way to draw as many as we take but, I've said it before, we take too many penalties".
"At the end of the day this guy (Buff) is capable of doing what we saw tonight on a pretty regular basis".
"There were a lot of good things. PK is good. Just wish it didn't have to be so good so often. PP scored another"