Coach Maurice met with the media following the game against the Predators.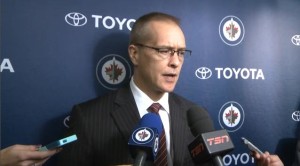 Audio courtesy of TSN 1290 Winnipeg.
Coach Maurice Quotes:
– Didn't mind the first 5 minutes. We were fine until the first NSH PP and then we got the momentum back.
– Pavelec has had a big stretch of really good games and then a great game like tonite and in Anaheim.
– First team to score was going to have a really big leg up. 3rd period was our best period. Goaltending and PK was why we won.
– Kane with Jokinen and Byfuglien is about adding speed to that line. Kane got Jokinen going. Had been thinking about doing this.
– Don't need 3 speedsters on 1 line in Kane/Scheifele/Wheeler, like spreading the speed around to all 3 lines.