Coach Noel had his players back on the ice for practice today and met with the media shortly after it ended.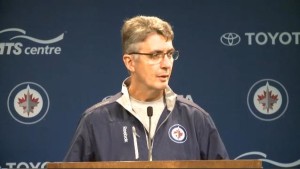 Coach Noel – Style of play needs to change.  Challenges presented by the Kings.  Playing 8 of 9 at home.  Benefit of spending that much time at home.  Countering enthusiasm with patience.  Role of Eric Tangradi.  Tangradi playing to his potential.  Surprised by Tangradi's no-look pass?

Audio courtesy of TSN 1290 Winnipeg.