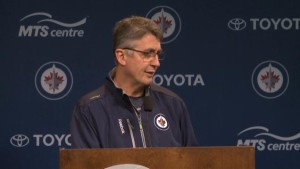 Coach Noel –  Growing frustration in the fanbase.  Dustin Byfuglien as a forward?  Where were missing players (Ladd, Wheeler – flu, Kane – maintenance).  Pressure on him from social media?  Facing a new challenge.  Process of figuring out how to change the fortunes of this team.  Happy with the leadership group of his team?  More player discussion ending with Setoguchi talk.  Injury update (Postma – waiting for him to cleared for contact. Slater – feeling better, above 50%, getting closer. Clitsome – slow process, not close.  Halischuk – a few weeks away).
Audio courtesy of TSN 1290 Winnipeg.
No(el)table Quotes:
"We feel their pain.  We are hoping they will still support us in the next game and we expect to be a lot better!"
"Do I feel any more pressure today than I did my first year?  I don't know that I do so much.  I am a realist I understand exactly how things go."
"I am very confident that we can get this thing turned around".
"I try not to focus on the negativity surrounding this position"
"I still believe our team is a playoff team.  I do not like where we are right now.  I do not like the way we are playing right now."
"We know where we are in the standings.  We know where where we are with the points and we know we have a ways to go".