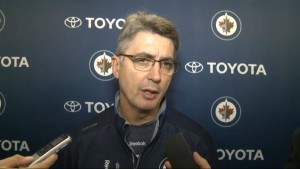 Coach Noel spoke with the media the day after winning 4-2 over the Wings and prior to departing for Chicago.
Coach Noel – Evander Kane status.  How can the team bottle last night's effort?  More about process than results?  How's Scheifele handling the ups and downs of pro hockey?  Happy with Mark's defensive game?  Start of Bryan Little.  How did his team control the puck last night?  Reinforcing for players to see what can happen when implementing his system.

Audio courtesy of TSN 1290 Winnipeg.