It might always be sunny Florida but coach Noel is not happy after his team lost 2 games to start the road trip.  He spoke to the media following his team's skate in Tampa: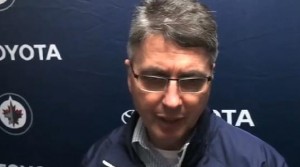 Coach Noel – No Byfuglien again tonight.  Goalie will be game time decision.  Good meeting with players today, including penalty killing.  What is the mood of the team.  Concerned with the back-to-back element?  What did he notice about the penalty kill?  Did he ask Perry Pearn to make any systemic changes?  Play of James Wright and what he likes about his game.  His thoughts on the visor rule? How has Mark Stuart's game evolved?  Lineup changes.

Audio courtesy of TSN Radio 1290.