Coach Noel met with the media following practice and prior to the game against the Boston Bruins.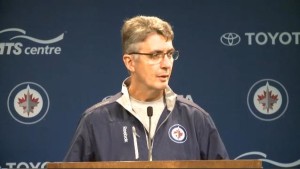 Coach Noel – Regulars out of lineup by design?  Is there a responsibility to the fans in Saskatoon to put forth best lineup?  Deciding on his lineup.  Talking about Wheeler out of lineup.  How will he be involved in getting his roster down to the opening day lineup?  What is his assessment of Paul Postma?  His defensive group.  What does he look to establish in tonight's game?  Bogosian is day to day.

Audio courtesy of TSN 1290 Winnipeg.