The Jets had the day off yesterday and coach Noel put the troops through the ringer today to get ready for tomorrow night's game against the Penguins.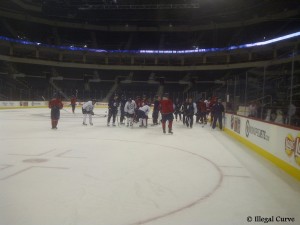 Ron Hainsey –  Play of the defence.  Communication between the D and low forward.  Has he played more minutes this season?  How has he adjusted his game over course of his career?  Has his evolution as a defenceman allowed him to focus on different areas? 
Mark Stuart –  Best defence is being in offensive zone.  Extra ice minutes impacting him?  Any adjustments with his defensive pairing?  
Chris Thorburn –  Saying hello to Mr. Glass.  Friends before and after game but not during.  Who is the closest friend he has ever fought?  How have they checked Crosby in the past?  Did he get any assignments against him in Atlanta?  Getting a goal early in the season.  How will he feel if he finds himself on the ice with Glass and Slater if fans chant GST?
Kyle Wellwood –  Handling playing a fast game.  Finding a way to play more than just a skill game.  His level of conditioning.  Is it maddening as ever to be scratched at this point in his career.  What does he need to do to erase doubt in coach's mind?  
Mark Scheifele –  Assessment of his game.  How hard is it to show how good he can be when he is given the role he is.  Is he being given a fair shot?  Anxious about the next 2 games?  Wanting to get on the board.