It was a full house today at the IcePlex as fans descended on the only other open practice for the Jets during training camp.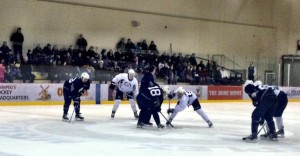 Tobias Enstrom – Excited to be back.  Playing with Byfuglien.  Defensive corps.  Can the team take the next step?  Sticking with this organization and Winnipeg.  Any changes to defensive structure?  Does defence need to play better than last season?  Looking forward to home opener.  More intense at today's practice.  
Nik Antropov – Ready to go for weekend?  Challenges for this week to be ready.  Eastern conference travel causing problems?  How did it feel to play with Ponikarovsky?  Where did he get hurt?  (i.e. KHL).  What can he expect from the Eastern Euro bloc line?  What can he expect from this team?  Where has team improved?
Spencer Machacek – Making this team in short training camp.  What does the brass have to say to him?  Is this his year to make next step?  Playing in AHL give him advantage?  Injuries have paved way for him.