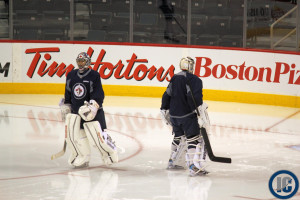 The Jets were back on the ice following a day off yesterday.
Ondrej Pavelec – Goalie fights. Getting rid of shootouts. OT talk. More shootout talk.  Team confidence after winning three in a row.  Easily become satisfied after reaching .500?
Al Montoya – Shootout talk.  Wade Flaherty breaks down forwards for them prior to game?  Certain guys you just don't want to face?  
Dustin Byfuglien – Where is the team at? Power play at the forefront of player thoughts? How aware are they of the success of other Central division teams? Anything he can do individually to help PP? How do you not press? Thoughts on changing OT?
Olli Jokinen – Seeing things in wins give confidence?  Are guys in the room understanding what it takes to be successful?  Importance of fixing the power play.  Team complacency.
Andrew Ladd – Taking on a hot Flyers team. Team Confidence. Thoughts on the year so far.
Audio courtesy of TSN 1290 Winnipeg.