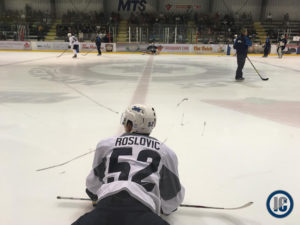 Summer is clearly coming to an end with these frosty temps and now a roster reveal.
Jets Release:
The Winnipeg Jets Hockey Club today announced their roster for the 2016 Rookie Camp that will attend the 2016 Young Stars Classic in Penticton, B.C. from September 16-19.
The group playing in Penticton will be on the ice together for the first time at MTS Iceplex on September 15, at 12:30 pm.
Players suiting up for the Winnipeg Jets in this year's Young Stars Classic include event veterans Chase De Leo and Brendan Lemieux. 2015 first-round selections Kyle Connor and Jack Roslovic, along with 2016 first-round pick Logan Stanley will be participating in their first-ever Young Stars Classic.
Broadcast partner TSN 1290 will be carry all three Jets games from the Young Stars Classic, called by the radio play-by-play voices of the Jets, Dennis Beyak and Paul Edmonds along with TSN 1290 and TSN3 colour commentator Shane Hnidy. You will also be able to watch the games online live on www.winnipegjets.com, featuring Brian Munz. Visit the Jets' website for game recaps, interviews, and exclusive coverage from Jets TV during the Young Stars Classic.
This season marks the fifth time the Winnipeg Jets will take part in the Young Stars Classic, hosted by the Vancouver Canucks. The Jets have participated since their inaugural season in 2011-12 while the tournament was cancelled in 2012 due to the NHL's work stoppage.