TSN:  Jets climb in NHL standings after beating Bruins.  A victory over the defending champs in December is nice, but coach Claude Noel is focused on a larger goal (playoffs), and that requires him to continue to treat each game like the rest, no matter how big or small the opponent.
Winnipeg Free Press:  Jets are't sitting back after beating champs.   Big test comes Friday where they will need to avoid a let down game against a struggling Hurricanes team and then a quick flight to Detroit to take on a rested Red Wings (they play Phoenix on Thursday night at Joe Louis Arena) squad.  The Hurricanes are the first repeat team the Jets face at the MTS Centre, a 5-3 Winnipeg win back on October 22nd.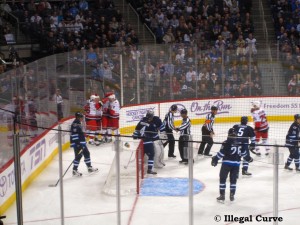 The Manitoban:  Winning in a winter wonderland.  3 wins in December down, 11 games to go.  Fans are hoping that if the Jets can continue their hot streak, they could make things a lot easier if they have post-season aspirations.  
Next opponent news – Carolina Hurricanes:
Canes Country:  Carolina at Edmonton.  Will the Canes streak of losses continue?  A preview of tonight's game against the Oilers.
Realignment News:
FS North:  Wild expect to benefit from realignment.  Jets fans were excited to be moved into a conference when the Wild were projected by many to finish out of the playoffs this season, not as they are now, 1st overall in the league.
ESPN:  NHL realignment playoff system lacks fairness.  The article requires being ESPN insider to read full article.
TSN:  Likes and dislikes of NHL's realignment.  Dave Hodge asks the following question to fans: "What do you like most, or least, about the NHL's realignment?"
Globe and Mail:  Score one for NHL.  Appears that the West is finally happy with the travel schedule.