Note:  After the game, be sure to check us out for all the post-game reaction. As soon as the site is updated we notify you via twitter @illegalcurve and Facebook.
Note II: For away games we have our #ICGWG. Make sure to @ tweet @illegalcurve with your guess. Remember that for your vote to qualify you must send in your guess using a hashtag (#). (i.e. #ICGWG Frolik).
Jets news:
CBC:  Evander Kane may be a healthy scratch in Toronto.  Lots of talk in Toronto today about the potential absence of Kane.
Winnipeg Free Press:  Evander Kane might sit tonight in Toronto.  Plenty of speculation on what the status of the young winger will be as we get ready for the Jets and Leafs game.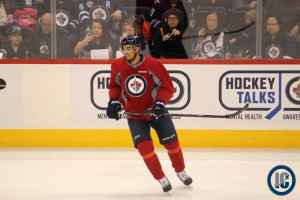 Winnipeg Sun:  Jets vs. Leafs game day.   This will be the place for the Sun's post-game news as well as a pre-game preview.  
Winnipeg Sun:  Jets Stream Blog.  Ken opens his Notebook up to get you ready for tonight's Jets and Leafs game included projected lines.
TSN 1290 Winnipeg:  Jets in Toronto looking to play the spoiler role.  Brian gives you his pre-game thoughts.
Illegal Curve:  Coach Maurice pre-game audio from ACC (audio).   Is there a correlation to the struggles of the team to Scheifele's injury?  The pressure in Toronto right now.  What is he expecting from tonight's pressure?  Has he detected any sag from his team since Jets were eliminated?  Any injury news (Scheifele, Thorburn, Bogosian, Clitsome, Wright, Montoya & Ellerby)?  Is Bryan Little playing tonight?  Still thinking about getting in Hutchinson?  What has he gotten out of Blake Wheeler?  More on the Toronto market.  Anything to make this last week meaningful?  Contemplating any lineup changes?  Does fact Leafs in playoff race impact his decision to go with Pavelec?
Illegal Curve:  Jets sign Connor Hellebuyck to a three-year, two-way, entry level contract.  Winnipeg added to their depth today.
Illegal Curve:  Morning Papers. If you missed any of the news this AM we have you covered.