Note:  After the game, be sure to check us out for all the post-game reaction. As soon as the site is updated we notify you via twitter @illegalcurve and Facebook.
Note II: For away games we have our #ICGWG contest. Make sure to @ tweet @illegalcurve with your guess. Remember that for your vote to qualify you must send in your guess using a hashtag (#). (i.e. #ICGWG Kane).
Jets news:
Winnipeg Free Press:  Jets without captain in Dallas tonight.  Gary chimes in with this report from Dallas.
Winnipeg Sun:  Jets at Stars gameday.  Kirk is covering the game for the Sun tonight and this is where you will find all his pre and post game coverage.
TSN Winnipeg:  Minus Ladd, Jets set to take on the Stars.  Bryan gives you a look at tonight's Jets and Stars game including his projected lineup for both teams including some new combos.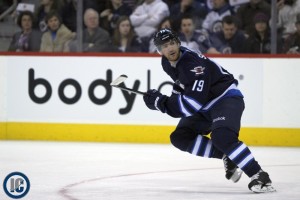 CBC:  Jets aim to maintain mastery over Stars.  The Jets will need to solve the former Thrashers netminder tonight if they have a hope of catching Dallas in the standings.
ESPN:  Power Rankings.  Pierre LeBrun put out his rankings and while the Jets moved up a couple of spots, it isn't near enough to get any fans truly excited about this season.
Illegal Curve:  Coach Maurice pre-game scrum from American Airlines Center (audio).  Who wears the C in Ladd's absence?  Adding an A for tonight's game.  What has happened to the team defence over past ten games?  Goalie talk, how does it get better?  Why didn't he stick to the grinding game that was winning?  Does he want to get back to the game against Dallas from the 16th (7-2 win)?  Anything on Bogosian?    
Illegal Curve:  Captain Ladd's ironman streak comes to an end.  Captain Ladd becomes Daddy Ladd (of a Lass) as he and his wife welcome a baby girl to their family, thus ending his Jets streak at 202 games.
Illegal Curve:  Curse of the Bobbleheads.  Remis looks at the Jets poor luck whenever they have held a bobblehead night the past three seasons since their move to Winnipeg.

Illegal Curve:  Game day set-up.  Ez sets up tonight's action between the Jets and Stars including projected lineups, starting goalies, game notes and more.
Illegal Curve:  Jets recall Klingberg and Cormier.  The Jets have been putting in a lot of calls to St. John's as the season grinds down.
Illegal Curve:  Morning Papers. If you missed any of the news this AM we have you covered.
TSN 1290 Winnipeg:  The Big Show (audio).   The guys were joined by Brian Munz (voice of the Winnipeg Jets on TSN 1290 Winnipeg) to preview tonight's Jets and Stars game.
TSN 1290 Winnipeg:  The Big Show (audio).  The guys were joined by Ralph Strangis (voice of the Dallas Stars) to preview tonight's Jets and Stars game.
Stars news:
Dallas Morning News:  Aaron Rome stays in, Kari Lehtonen in goal.  Stars columnist Mike Heika brings you up to speed on all the latest from the Dallas point of view.