Note:  After the game, be sure to check us out for all the post-game reaction. As soon as the site is updated we notify you via twitter @illegalcurve and Facebook.
Note II: For home games we have our #IC5050 and #ICGWG contest. Make sure to @ tweet @illegalcurve with your guess. Remember that for your vote to qualify you must send in your guess using a hashtag (#). (i.e. #ICGWG Trouba & #IC5050 $35,600.00).
Jets news:
Winnipeg Free Press:  Maurice moving Frolik to centre for Jets.  Going to be a big move and not an easy one to jump from the wing to centre but coach Maurice trusts in Frolik's versatility.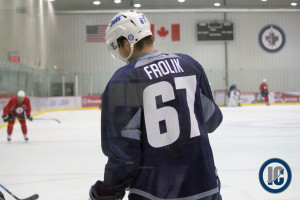 Winnipeg Sun:  Bringing Frolik in at centre.  Should be interesting to see what he can do against these tough L.A. Kings tonight.
TSN:  Jets welcome streaking Kings to MTS Centre.  Brian breaks down the game in advance of the early 6 pm start time.
NHL.com:  Gaborik era begins for the Kings against the Jets.  His style of play was said to not compliment the Columbus system but will he fit in with the Kings?  Only time will tell.
CBC:  5 things to watch for as Jets clash with Kings.  Jeff takes a gander at the game and gives you five things to think about including; 1) Kings Court, 2) Another benchmark game, 3) Scheifele out, 4) Staying put and 5) Under the microscope.
Manitoba Hockey News:  Stuart delighted with new deal.  Always nice as a native Winnipegger to hear someone from outside our city speak so highly of it and show a connection.  You know with Stuart it isn't simply someone speaking platitudes for the fans.
Illegal Curve:  Mark Stuart discusses new contract and staying in Winnipeg (audio).  On getting the call. Was he tempted to wait till the summer? Re-committing to this organization/city.  Being a leader in the room and influencing the young players.  The players who helped him when he first got into the league.  Has he used what they taught him with players like Trouba?  Might this be his last contract?

Illegal Curve:  Coach Maurice pre-game scrum (audio).   Status of Bryan Little.  Why move Frolik to centre?  Biggest concern having a winger at centre?  Thoughts on the Jets maintaining the status quo on deadline day.  Comment on Mark Stuart's contract.  Appreciation of Stuart's game.  On recall of John Albert.

Illegal Curve:  Game day set-up.  Ez sets up tonight's action between the Jets and Kings including projected lineups, starting goalies, game notes and more.
Illegal Curve:  Morning Papers. If you missed any of the news this AM we have you covered.