Note:  After the game, be sure to check us out for all the post-game reaction. As soon as the site is updated we notify you via twitter @illegalcurve and Facebook.
Note II: For home games we have our #IC5050 and #ICGWG contest. Make sure to @ tweet @illegalcurve with your guess. Remember that for your vote to qualify you must send in your guess using a hashtag (#). (i.e. #ICGWG Ladd & #IC5050 $42,350.00).
Jets news:
Winnipeg Sun:  Jetstream blog.  Ken empties his notebook before tonight's game.  Plenty of good tidbits to read before the game starts.
TSN Radio 1290:  Rona Roundtable (audio).  Hustler and Rick speak with Jets forward Matt Halischuk today.  Spoke about his recovery and getting back into a routine.
NHL.com:  Jets regain services of Kane, Slater for playoff push.  Not a moment too soon.  While the Jets have been doing well they are going to need these two guys to help turn on the afterburners.
Winnipeg Free Press:  Roster returns to full strength for game against Coyotes.  While the lineup is finally healthy, coach Maurice didn't sound like someone who was planning on making many moves yesterday following practice.  In fact, the lines at yesterday's practice saw Kane returning to his 2nd line spot with Thorburn heading back to the 4th line and that looked like the only moves that were going to be made.  Today it changed and Jim Slater is in at centre on the 4th line.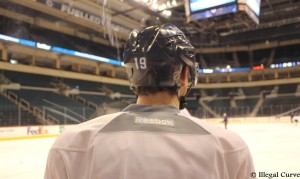 Winnipeg Sun:  Slater returns to the lineup.  And he is bringing his faceoff acumen to a team that could use it as the team currently sits a solid 30th in the league at 45.7%.
CBC:  5 things to watch as Jets host Coyotes.  Jeff looks at a few topics in advance of tonight's game including; 1) Hunting Season, 2) Pushing for the Playoffs, 3) Buyers or Sellers, 4) Clean slate and 5) Post-Olympic Stress Disorder.
TSN:  Jets open crucial post-Olympic stretch versus Coyotes.  Brian gives his thoughts before the game.
Illegal Curve:  Coach Maurice pre-game scrum (audio).   What Slater is bringing to this team.  What changed his mind about getting Slater into the lineup?  Importance of Slater's faceoff circle prowess.  Increased confidence in this team since his arrival?  Where has he seen the most growth in this team?  Concern team might fall back to an old mindset (in terms of being in playoff race).    What is his comfort level with this team?  Setting the tone down the stretch.

Illegal Curve:  Game day set-up.  Ez sets up tonight's action between the Jets and Coyotes including projected lineups, starting goalies, game notes and more.
Illegal Curve:  Morning Papers. If you missed any of the news this AM we have you covered.