Note:  After the game, be sure to check us out for all the post-game reaction. As soon as the site is updated we notify you via twitter @illegalcurve and Facebook.
Note II: For home games we have our #ICGWG & #IC5050 contests. Make sure to @ tweet @illegalcurve with your guess. Remember that for your vote to qualify you must send in your guess using a hashtag (#). (i.e. #ICGWG Ladd #IC5050 $40,120.00).
Jets news:
Winnipeg Free Press:  Jets prepare to host Canucks for the first time.  Plenty of familiar faces will be visiting the MTS Centre for the first time as members of the Vancouver Canucks.
Winnipeg Sun:  Ken's notebook.  Plenty of insight into tonight's game from beat writer Ken Wiebe in advance of the game.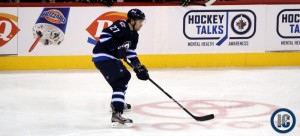 Winnipeg Sun:  Canucks finally come to town.  A lot of people had this game pegged as their top choice for the season.
NHL.com:  Super 16.  While the Jets might be on the outside looking in of the playoff picture  Corey Masisak has the team in 16th spot on his list.
TSN:  Jets look to pounce on banged up Canucks.  Brian previews the contest from the MTS Centre.
CBC:  5 Things to Watch.  Jeff with a look at some items of interest before the game including; 1) third time's a charm, 2) carrying the load, 3) fatigue setting in, 4) Friday night fight and 5) where it all started.
TSN 1290 Winnipeg:  Rona Roundtable (audio).  Rick talks to Zach Bogosian talks new coach, food, tonight's game, the roommate and keyboard warriors.
Illegal Curve:  Coach Maurice pre-game presser.   Roster adjustments (Tangradi in).  Opportunity for him?  Is this a different hockey team?  On taking steps back.  Why does he do that (end of season reviewing best and worst game)?   Does he feel like he is getting the most out of his players?  Is the defensive group exceeding expectations?  Consistency makes a consistent player?  Will Eric O'Dell be back for tonight?  Blake Wheeler on the penalty kill. 

Illegal Curve:  Game day set-up.  Ez sets up tonight's action between the Jets and Canucks including projected lineups, starting goalies, game notes and more.
Illegal Curve:  Morning Papers. If you missed any of the news this AM we have you covered.
Canucks news:
The Province:  Heritage Classic already a winner, the team's high burnout rate, and a winnable one in the 'Peg.  The Canucks are desperate to get this road trip started on the right foot.
Winnipeg Sun:  Lack gets the call for Canucks.  Former goalie for the Manitoba Moose is familiar with the friendly confines of the MTS Centre.